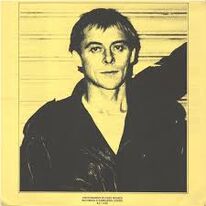 Karel Fialka is an Indian born British singer and songwriter. He was born Karel Francis Fialka in Bengal, India, to a Scottish mother and Czech father and had a minor UK hit in 1980 with 'The Eyes Have It' and a top ten single in 1987 with 'Hey Matthew' (read more on wikipedia).
Links to Peel
Peel had a copy of a single from Fialka's old band, Dreamland Express in 1967, where the group did only a few gigs and were never signed to a record label. When Fialka started going solo, Peel gave airplay to his initial independent release 'Armband (The Mystery Song)' in May 1979. He was initially drawn to it as an example of a record "by people you've never heard of ....on a label you've never heard of.." adding, "..and it turns out to be quite a good record". Peel played the Red Shift release which featured a song by 'Sven the Busker' on the B Side "..about whom I know nothing..", although this was in fact a pseudonym for Fialka and the song 'Ghosts (The Subway Strummer)' is merely an acoustic version of 'Armband'. Peel also played 'Armband' upon its re-release on Blueprint in October 1979, although interest in Fialka's musical output does not seem to have gone beyond this single.
Sessions
Shows played
External links
Community content is available under
CC-BY-SA
unless otherwise noted.