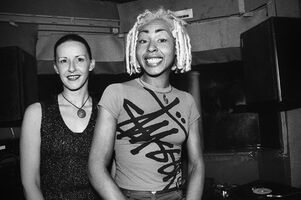 Kemistry & Storm were an English Drum And Bass DJ and recording duo of the 1990s. Along with Goldie, whom Kemistry (Kemi Olusanya) had introduced to the drum and bass scene in the early years of the decade, they founded the Metalheadz label in 1994. Appearing mainly on the club scene, recordings by the act include DJ-Kicks: Kemistry & Storm, a mix album released in January 1999 as part of the independent label Studio !K7's DJ-Kicks series.
Recognized for being "some of the first women DJs to have a widely distributed album" in a "male-dominated genre of music", Kemistry and Storm met while at college in Northampton. They kept in touch as their lives diverged over the coming years, working as a make-up artist and in radiography respectively, and gave up their careers to begin DJing when both found themselves living in London in the early 1990s. With Goldie, they led Metalheadz for two-and-a-half years before leaving the label. The success of the DJ-Kicks album brought them opportunities to DJ internationally and has been described as "paving the way for other, younger, female DJs".
The duo's collaboration came to an end with the death of Kemistry in an unusual road accident in the early morning of 25 April 1999, while returning from a Kemistry & Storm gig in Southampton.
Links To Peel
The duo were played by Peel in early 1999 where they remixed several artists and he was impressed with their material that he invited them to perform a live session, which they did on 06 April 1999. Sadly nearly 3 weeks after the session, Kemistry died in a freak car accident after returning from a gig in Southampton, where in a car travelling behind a van on the M3 motorway in Hampshire, she was hit by the steel body of a cat's eye, which had been dislodged by the van and flew through the windscreen of the car in which she was a passenger. The cat's eye hit her in the face and she was killed instantly. The coroner recorded a verdict of accidental death. A question was asked in the House of Lords about the safety of cat's eyes in light of the incident, and the Highways Agency conducted an investigation into the "long-term integrity and performance" of various types of road stud. The song "Kemistry" by Goldie on his album Timeless, is dedicated to Olusanya.
Sessions
1. Live and recorded: 06 April 1999. Broadcast: 06 April 1999
Other Shows Played
1999
External Links
Community content is available under
CC-BY-SA
unless otherwise noted.