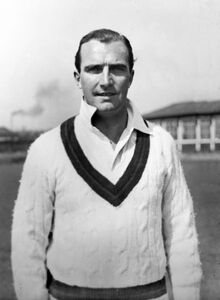 Kenneth "Ken" Cranston (20 October 1917 – 8 January 2007) was an English cricketer, who played first-class cricket for Lancashire and eight times for England, in 1947 and 1948. He retired from playing cricket to concentrate on his career as a dentist. Cranston was born in Aigburth, Liverpool, where his father Henry Selby Cranston was a dentist. He and his elder brother Ronald were educated at Liverpool College, but Ronald died aged 23 after showing early cricketing talent. Ken Cranston played for the Lancashire Second XI in the Minor Counties Championship before World War II. He served as a dental officer in the Royal Navy during the war. He played cricket for the Royal Navy and Combined Services, and played club cricket in Lancashire after the war. He also played hockey for the county.
Links to Peel
In an interview with the Wirral Globe in 2003, Peel mentioned watching Ken Cranston play as a child:
"Burton was a real working village in those days and there wasn't much for young people to do. For entertainment I can remember travelling to Neston to watch Ken Cranston play cricket. He was quite a phenomenal player and it was rather extraordinary to see this England international playing for a tiny village team. I remember seeing him hit a six once, the ball went straight up in the air and landed in a baby's pram! The baby's mother was much less impressed with him than I was." [1]
External Links