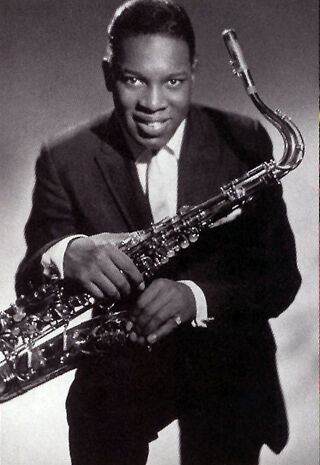 Curtis Ousley (February 7, 1934 – August 13, 1971), who performed under the stage name King Curtis, was an American saxophonist known for rhythm and blues, rock and roll, soul, blues, funk and soul jazz. Variously a bandleader, band member, and session musician, he was also a musical director and record producer. Adept at tenor, alto, and soprano saxophone, he was best known for his distinctive riffs and solos such as on the Coasters' "Yakety Yak", which later became the inspiration for Boots Randolph's "Yakety Sax" and his own "Memphis Soul Stew". The son of Ethel Montgomery, he was born Curtis Montgomery in Fort Worth, Texas, and was adopted, with his sister Josephine Allen, by Josie and William Ousley. Curtis Ousley attended I.M. Terrell High School, and studied and performed music with schoolmate Ornette Coleman....(Read more).
Curtis met an untimely and violent end, being stabbed to death in a fight with junkies in 1971. AllMusic called him "the last of the great R&B tenor sax giants."
Links to Peel
JP had a taste for uncontrolled saxophone records: Memphis Soul Stew, featuring Curtis' wild and florid solos, was his best-known song, although Peel appears not to have played it. Instead, his collaboration with Eric Clapton, Teasin, was featured more than once, according to existing track listings. When interviewed by Tommy Vance for the Friday Rock Show, Clapton listed this as his favourite performance, noting its sweetness and spontaneity (it was recorded in about 10 minutes). [1]
Peel's Radio One colleague Mike Raven, one of the few DJs to gain JP's approval during his early years on the station, used two versions of King Curtis's composition Soul Serenade as the theme tune of his Rhythm and Blues Show (1967-1971). The first version, by  Beau Dollar & the Coins, was produced by Peel favourite Lonnie Mack (who also played guitar on the record) in 1966. 
Festive Fifty Entries
Sessions
Other Shows Played
External Links