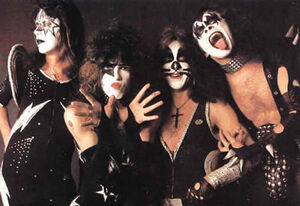 Kiss
(more often styled as
KISS
) is an American hard rock band formed in New York City in January 1973. Well known for its members' black and white face paint and flamboyant stage outfits, the group rose to prominence in the mid to late 1970s with their elaborate live performances, which featured fire breathing, blood spitting, smoking guitars, shooting rockets, levitating drum kits and pyrotechnics. By the early 80's Kiss dropped their face paint and stage outfits and went more into a glam metal image, with their music moving into that orientation. By the mid 90's, the band decided to reunite with their original members and perform live concerts of their 70's material. Since then the band still continues to tour and recently released albums that sound more of their 70's era.
Links To Peel
Peel wasn't especially a big Kiss fan, but one song he particularly loved was called Black Diamond, which came from their debut album released in 1974. He admitted that the principal appeal of the song was the gimmick of it gradually slowing down to a stop at the end. After playing a track called 'Kiss' by Cherubino on his show from 29 November 2001, he was inspired to locate the LP and play the track in question. He trailed Black Diamond thus:
"I rushed to the other side of the room as fast as I could go and got hold of the debut LP by - uhmm you guessed - KISS, and err obviously you may think a little outré KISS by and large, but there was for me, one amazing track on their debut LP and it's a track that you may never have heard. So..."
After playing the song he said:
"I was enjoying that so much, I forgot to cue up another record."
Shows Played
(The following list was compiled only from the database of this site and
Lorcan's Tracklistings Archive
and is certainly incomplete. Please add further details if known.)
1974
1992
01 February 1992: Black Diamond (LP - Kiss) Casablanca (Peel played the guitar solo of this song as a competition for listeners to guess the artist and win prizes)
2001
See Also
External Links
Community content is available under
CC-BY-SA
unless otherwise noted.