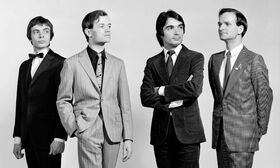 Kraftwerk
(
German pronunciation: [ˈkʀaftvɛɐk], "power station"
) are a German
electronic music
band formed by Ralf Hütter and Florian Schneider (d.2020) in 1970 in Düsseldorf, and fronted by them until Schneider's departure in 2008. The signature Kraftwerk sound combines driving, repetitive rhythms with catchy melodies, mainly following a Western classical style of harmony, with a minimalistic and strictly electronic instrumentation. The group's simplified lyrics are at times sung through a vocoder or generated by computer-speech software. Kraftwerk were one of the first groups to popularize electronic music and are considered pioneers in the field. In the 1970s and early 1980s, Kraftwerk's distinctive sound was revolutionary, and has had a lasting effect across many genres of modern music. (
Read more at Wikipedia
)
Links to Peel
While Peel seemed to be interested in Kraftwerk, he was initially not too taken by them, although he is known to have played a track from their debut album in 1973. On 07 July 1978, he admitted that he did not "fully understand" or appreciate their work. However, the fact that he admired the work of artists like Neu! and Tangerine Dream, who inspired Kraftwerk, and also others like Cluster and Brian Eno, who have listed them among their influence, led to Peel keeping an eye open for them and retaining some respect for their music.
Peel resumed his career as a Top of the Pops host in the one and only week that Kraftwerk were at no.1 with The Model, in 1982.
In the year 2000, the DJ gave multiple plays to Latin-style cover versions of Kraftwerk classics by fellow German electronic artist Señor Coconut (aka AtomTM).
Sessions
Other Shows Played
(Please add more information if known)
Top Of The Pops
Covered
(The list below was compiled only from the Cover Versions page of this site. Please add more information if known.)
Artist | Track | First Known Play
See Also
External Links
Community content is available under
CC-BY-SA
unless otherwise noted.