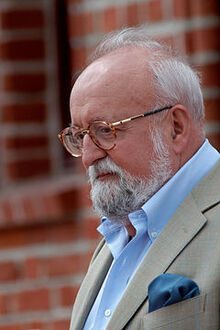 Krzysztof Eugeniusz Penderecki (born 23 November 1933) is a Polish composer and conductor. Among his best known works are his Threnody to the Victims of Hiroshima, Symphony No. 3, St. Luke Passion, Polish Requiem, Anaklasis, Utrenja, four operas, eight symphonies and other orchestral pieces, a variety of instrumental concertos, choral settings of mainly religious texts, as well as chamber and instrumental works.
Born in Dębica to a lawyer, Penderecki studied music at Jagiellonian University and the Academy of Music in Kraków. After graduating from the Academy of Music, Penderecki became a teacher at the academy and he began his career as a composer in 1959 during the Warsaw Autumn festival.
Penderecki has won many prestigious awards, including the Commander's Cross in 1964, the Prix Italia in 1967 and 1968, the Knight's Cross of the Order of Polonia Restituta in 1964, five Grammy Awards in 1987, 1998, 2001, 2013, and 2017, Wolf Prize in Arts in 1987 and the University of Louisville Grawemeyer Award for Music Composition in 1992.
Links To Peel
During his Night Ride shows, Peel would often play modern classical music, especially from artists such as Penderecki, whose album Dies Irae (Auschwitz Oratorium) / Polymorphia / De Natura Sonoris often had tracks played on his programmes. By the 70's and beyond, his rota of classical music were rarely played on his shows.
Shows Played
28 May 1969: 'Apotheosis (from "Dies Irae: The Oratorio in Memoriam for the Victims of Auschwitz") (LP-Dies Irae (Auschwitz Oratorium) / Polymorphia / De Natura Sonoris)' (Philips)
30 July 1969: Apocalypsis (LP - Dies Irae (Auschwitz Oratorium) / Polymorphia / De Natura Sonoris) Philips
External Links