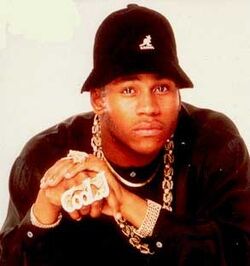 LL Cool J 
is an American
Hip Hop
artist, actor and entrepreneur, whose name means "Latest Love Cool James". Born as James Todd Smith in 1968, the artist started writing lyrics and making his own music by the age of 11. At 16, LL Cool J was signed to the Def Jam label in 1984, after the producer Rick Rubin and artistic manager Russell Simmons heard his demo.  In 1985, LL Cool J released his first album called the Radio, which received critical acclaim, both with production innovation and LL's rapping.  From his debut album until the early 90's, LL Cool J's records were produced by Rick Rubin, who introduced sound innovations to the recordings in order to attract alternative/indie listeners. Cool J scored an unexpected crossover rap/ballad hit in the UK charts in 1987, reaching no. 8 with
I Need Love
(from
Bigger And Deffer
). After the early 90's, LL Cool J's music went in a different direction, involving using different producers who moved his sounds into mainstream hip hop and contemporary R&B. This served to increase his popularity throughout the middle of the decade and led to a number 1 in 1997 with
Ain't Nobody
.
Links To Peel
Peel heard LL Cool J's debut album Radio in 1985 and played some tracks from it. During the 80's, many of LL Cool J's tracks were played by Peel, but after the early 90's, when LL Cool J decided to change his music into mainstream hip hop and contemporary R&B, John neglected to programme his recordings, as he did with other hip hop artists he felt to be guilty of sexism and misogyny. The latter is the main reservation JP experienced regarding Cool J: in one BFBS show, he felt that some of the tracks on Bigger And Deffer made him sound "a complete div." [1]
Shows Played 
1985
1986
1987
1988
1989
1990
See Also
External Links
Community content is available under
CC-BY-SA
unless otherwise noted.