Obi-Wan Finale - The Loop
Play Sound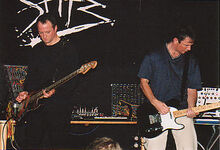 The Land of Nod were a space rock/post-rock duo between 1995 and 2005 from Cheltenham, England, comprising guitarist Ant Walker and bass guitarist Dave Battersby. The band's first release was the track "Floating around in the bubblebuzz", which was released on the Voyage to the Cosmic Underworld: Volume One EP in 1995 on Ochre Records. The following year, they released two tracks on a split 12-inch EP with The Bass Cadets, and in January 1998 they released another split single with Ectogram.
The band's first dedicated release was a four-track 10-inch EP in July 1998, which was followed in February 1999 by the debut album, Translucent. The band then released an album a year until 2003's Colli De Pedona. Their 2001 mini-set Mont Ventoux was themed on the Tour de France; The title track is a reference to one of the highest summits in the race, "Anquetil" was named after five times Tour winner Jacques Anquetil, and "Sommet" featured the voice of Eddy Merckx.
The band also recorded a session for the B-92 radio station in Yugoslavia, these tracks included on the US compilation Reality Channel. In the same year they contributed four exclusive tracks to the Seasons compilation album on Ochre Recordson which featured interpretations of the seasons of the year, with other tracks by Longstone, Lakescene (Walker's side-project), 90° South, and Stylus. The Land of Nod
Links to Peel
Peel had a copy of the band's joint single with The Bass Cadets in 1996, but did not play any of the Land Of Nod's tracks on his programme. It was only until 1998, that he started to play their material and he was so impressed by their December 2002 album, Inducing The Sleep Sphere, that he nominated it as one of his records for January 2003 (Peel's Record Box). In March 2003, the band recorded a session for John Peel's BBC Radio 1 show and they headlined the Cheltenham 'John Peel Night' in October 2005, which was the last time the band performed together.
Sessions
NOTE: Ken Garner's The Peel Session book mistakenly mentions their recording date as 20th March 2004.
1. Recorded: 2003-03-20. First Broadcast: 22 April 2003
Half Light / Colli Di Pedona / Inducing The Sleep Sphere / Ice Station Nod
Other Shows Played
1998
2001
2002
16 April 2002: Seeing Into The Great Void (2xLP – Archive: 02) Ochre
External Links