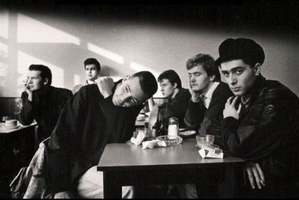 The Larks were an English ska/punk group formed at Christchurch College, Canterbury in 1981. Despite the fact that neither Tommy Barlow (sax) nor Mark Bannister (guitar) could play their chosen instrument and despite their differing tastes in music, they decided to form a band. They performed Clash songs as a duo at a couple of college 'folk' nights before recruiting Dave Eastgate on drums. The trio bought a cheap bass guitar and gave it to Pete Walmsley to learn. The Larks' first gig was at the Art College on June 16th where they performed fifteen cover versions. The band released their first single in 1986 and in total released four singles before splitting in 1988.
Links To Peel
In an interview with the Fear & Loathing fanzine, guitarist Mark Bannister claimed that Peel played their controversial track 'Maggie Maggie Maggie Out Out Out' on his roadshows and not on his radio programmes, due to it's anti-Margaret Thatcher message:
"We were told that he used to play 'Maggie Maggie Maggie Out Out Out' at the end of his roadshows, and he played it once as part of a documentary about protest music or something. But I'm pretty sure he never played it on his evening show, and we never got offered a session or anything…" [1]
However, Peel did play their track 'Billy Graham' in 1986 and in an interview with Jockles from the Turtle Breeder fanzine in 1988, he confirmed playing The Larks' Maggie Maggie Out Out Out on some of his roadshows and thought it was a great record which he could not play on his radio programmes.
[2]
Shows Played
1986
External Links