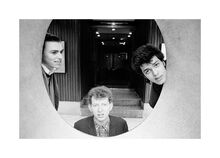 Laughing Apple was a British indie band founded in 1981 by Alan McGee, Andrew Innes (guitarist) and Mark Jardim (drummer) in London. They recorded three singles in 1981 and 1982, two of which were released on Autonomy, and the third was put out on their own Essential record label. In 1983, quitting his job at British Rail, McGee co-founded Creation Records (named after cult 1960s band The Creation) with Dick Green and Joe Foster.
Links to Peel
After Peel's death in 2004, Alan McGee paid tribute to the DJ in Music Week, published on 6th November 2004:
"He had more focus about new ideas and music than most people 30 or 40 years younger. He gave me my first play on radio, he played Creation's first record and the first record we put out on Poptones" [1]
Laughing Apple's material were played by Peel between 1981 and 1982.
Shows Played
01 April 1981: Upstairs Downstairs (EP – The Ha Ha Hee Hee! E.P.) Autonomy
1982
External Links