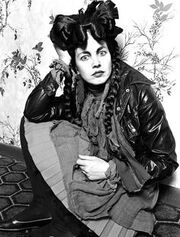 Lene Lovich
(/leɪnə lʌvɪtʃ/) (born March 30, 1949) is an American singer, songwriter and musician of English descent based in England. Born Lili Marlene Premilovich in Detroit, Michigan, Lovich moved to England at the age of 13, where she met the guitarist and songwriter, Les Chappell, who later became her long time music collaborator and life partner. She first gained attention in 1979 with the release of her hit single "Lucky Number", which peaked at number 3 on the UK Singles Chart and made her the lead figure of the new wave music scene. (
Read more at Wikipedia
)
Links to Peel
Lovich was among the artists John Peel endorsed by the late 70s, when she started her solo career after failed attempts with other bands such as the Diversions. She recorded two sessions for his program and Peel appeared quite fond of her first solo album, "Stateless", released in 1978. However, after showing a bit of interest in her second LP, "Flex", he seldom featured Lovich again in his program and, when he did, he played her older material. Her third album, "No Man's Land", was released in 1982, three years later after her previous one. Perhaps too much time had passed for John to maintain interest in her music.
Sessions
Two sessions. No known commercial release.
1. Recording date: 1978-11-21. First broadcast: 27 November 1978. Repeated: 02 January 1979.
Money Talk / Home / Lucky Number / Say When
2. Recording date: 1979-12-03. First broadcast: 10 December 1979. Repeated: 01 January 1980, 21 January 1980.
Angels / One in a Million / Birdsong
Other Shows Played
(The list below was compiled only from the database of this site and Lorcan's Tracklistings Archive. Please add further information if known.)
1978
1979
1980
1981
External Links
Community content is available under
CC-BY-SA
unless otherwise noted.