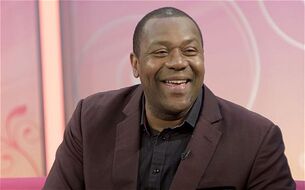 Lenworth George Henry, CBE (popularly known as Lenny Henry, born 29 August 1958) is a British stand-up comedian, actor, writer, television presenter, and comedian, best known for co-founding charity Comic Relief and presenting various television programmes, including The Magicians for BBC One. He made his TV debut on a talent show called "New Faces" in 1975 at the age of 16. He won and went on to things such as The Fosters (1976) and Tiswas (1974), which was when his career as a comedian took off. Lenny teamed up with the Comic Strip in 1980, when he met comedienne Dawn French, who would later become his wife. By 1984, Lenny was ready for his own show and the Lenny Henry Show ran for a decade, becoming hugely popular with audiences. A return to his stand-up roots followed, with Lenny embarking on the Live and Unleashed shows, bringing him to the attention of Hollywood. Lenny took the lead in the Hollywood film, True Identity in 1989, with mixed results. But the BBC sitcom, Chef, followed and it was a big success for Lenny, who also wrote and produced the show. Critical acclaim followed in 1999, when Lenny acted in the straight role of Ian George in the BBC comprehensive school drama, Hope and Glory.
Links To Peel
Between 1980 and 1983, Lenny Henry had a soul show for BBC Radio One, the same station where Peel worked. Peel appeared on Tiswas in 1980, which Lenny Henry presented with Chris Tarrant and others. During the early 80's, Lenny Henry released novelty records doing songs with impressions of people, which Peel would often play on his shows. None of Lenny Henry's singles ever became hits, despite his popularity on television.
Shows Played
1981
09 March 1981: The (Algernon Wants You to Say) OK Song (7" - Mole In The Hole) Jet (JP: 'A thing of rare beauty … someone told me it was the Beat providing the backing music.')
External Links
Community content is available under
CC-BY-SA
unless otherwise noted.