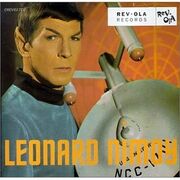 Leonard Simon Nimoy
(March 26, 1931 - February 27, 2015) was an American actor and film director whose main claim to fame was his portrayal of the half-Vulcan, half-human Doctor Spock on the science-fiction TV series
Star Trek
from the very beginning to its cancellation in 1969. As the seemingly unemotive Spock, Nimoy became synonymous with the show's image, along with his close friend
William Shatner
, who played in the series as Captain James T. Kirk.
Like Shatner, Nimoy turned to recording during and after the show's run, recording five LPs for Dot Records bearing titles that referred to elements of Star Trek or catchphrases from it (for example, Mr. Spock's Music From Outer Space and Highly Illogical), and also traded on his show persona to help ensure the music's success. However, unlike Shatner, who 'acted' each song rather than sing it, Nimoy employed a low baritone singing range with no vibrato, and tracks such as The Ballad Of Bilbo Baggins, a camp redaction of Lord Of The Rings, have become cult classics. Whereas Shatner's exaggerated mannerisms prompted derision and commercial failure, Nimoy's LPs were popular and led to many promotional appearances.
Links To Peel
Peel was aware of Nimoy's recordings long before he turned his attention to Shatner, and bought his Outer Space LP on the Australian Raven label when it was reissued in 1987, regarding it as "a bit of a gem" (although his colleague Bruno Brookes had already been playing it for some time). Likewise, the reissue of Shatner's The Transformed Man on CD in 1992 prompted a reissue of Nimoy's material by Rev-Ola and consequent further play by John. The two actors were heavily featured in the 1996 Peel-narrated documentary Funk Me Up, Scotty which highlighted Star Trek-related musical esoterica: this revealed that not all his recordings were inspired by his Spock character, and covers of Kenny Rogers and Johnny Cash songs also feature in his repertoire.
Festive Fifty Entries
Sessions
Plays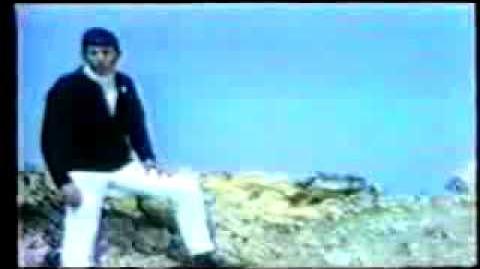 External Links
Community content is available under
CC-BY-SA
unless otherwise noted.