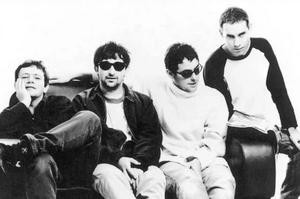 The Lightning Seeds are an English alternative rock band from Liverpool, England formed in 1989 by Ian Broudie (vocals, guitar, producer), formerly of the band Big In Japan. Originally a studio-based solo project for Broudie, the Lightning Seeds expanded into a touring band following Jollification (1994). The group experienced commercial success throughout the 1990s and are well known for their England football anthem single "Three Lions", a collaboration with David Baddiel and Frank Skinner which reached No. 1 in the UK in 1996 and 1998. It has re-entered the Official UK Charts on every world cup football year since 1998.
Links To Peel
Peel played their debut single, Pure, which was a 1989 top twenty hit in the UK Singles Chart, but commercial follow ups did not add to his playlists, except the tracks Lucky You, Sugar Coated Iceberg and Ferry 'Cross The Mersey with Holly Johnson from the live album, You'll Never Walk Alone - The Hillsborough Justice Concert, which raised money for the Hillsborough victims, after Peel was the compere at the concert.
There was no Peel session, although Broudie had recorded earlier ones with both Big In Japan and Original Mirrors.
Shows Played
1997
25 June 1997: Lucky You (v/a album - You'll Never Walk Alone - The Hillsborough Justice Concert) V2
01 July 1997: Sugar Coated Iceberg (v/a LP - You'll Never Walk Alone - The Hillsborough Justice Concert) V2
02 July 1997: Ferry 'Cross The Mersey (LP: You'll Never Walk Alone)
External Links