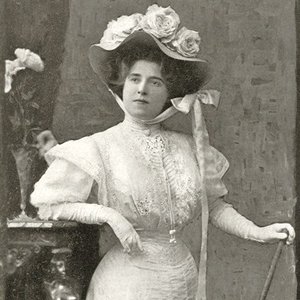 Lily Morris (September 30, 1882 – October 3, 1952), born Lilles Mary Crosby, was an English music hall performer, who specialised in singing comedic songs, notably 'Why Am I Always The Bridesmaid' and 'Don't Have Any More, Missus Moore".
Morris was born in the Holborn area of London, and began performing professionally at the age of ten as the prinicpal boy in pantomime. She built a formidable career, including several successful international tours: on a visit to America, she stopped the show at the New York Hippodrome. She had a particularly successful run at the Palace Theater in New York in 1928. She also appeared in the musical revue film Elstree Calling (1930), co-directed by Alfred Hitchcock, and a later appearance in the film Radio Parade of 1935 as a charlady alongside fellow music hall performer Nellie Wallace.
She did finally marry Archibald (Archie) McDougall on February 18th 1907. Archie eventually retired from his regular job and became Lily's full time manager. He died on August 17th 1952.
She retired from the stage in 1940, except for a brief appearance in 1948. In 1941 she appeared as the formidable "Lady Randall" in the Arthur Askey comedy I Thank You but reverts to type in the final scene where she gives a rendition of the old music hall standard "Waiting at the Church" at an impromptu concert in a tube station bomb shelter. Lily died on October 3rd 1952, just two months after the death of her husband Archie.
Links to Peel
The Harry Castling song Don't Have Any More, Missus Moore as performed by Morris was included in the Peelenium 1919.
Festive Fifty Entries
Sessions
Other Shows Played
External Links