We're Getting Mutants in the MCU - The Loop
Play Sound
(This page is about the city in north-west England. For the football team of the same name, see Liverpool.)
Liverpool is a city in Merseyside, England. In 2014, the city local government district had a population of 470,537 and the Liverpool/Birkenhead metropolitan area had a population of 2,241,000. (Read more at Wikipedia.)
Links to Peel
"I was always very, very proud of being associated, in my own mind at least, with Liverpool. I mean, people in Liverpool didn't think of me as being a Liverpool person at all, but I thought of myself as being a Liverpool person because that's where I like to be and that's where I worked and that's where my father worked, and my mother and father both came from there, and so on. So I thought of myself as a Liverpudlian. And the people of Liverpool have always I think thought of Liverpool in rather the way that people living in Italian city states did sort of a couple of hundred years ago – as being whether they liked it or not part of a greater whole but actually really not being, not because they were compelled to be. And so there was this incredible independence about Liverpool where it was obviously geographically part of England, but everybody knew that really in their heart of hearts that it wasn't at all."[1]
Although Peel was born in Heswall Cottage Hospital in Heswall on the Wirral Peninsula and grew up in the nearby village of Burton, he always maintained a strong identification with Liverpool, on the other side of the Mersey, as seen most clearly in his fanatical devotion to Liverpool football team and public support for music from the city. In his adult life, he lived away from Liverpool[2] but continued to visit his favourite city regularly. Two of his four children went to Liverpool University.[3]
Peel's earliest memories of Liverpool went back to his wartime childhood on the Wirral. In the 2002 TV documentary Going Home, he said:
"I do remember standing in one of the upstairs bedroom windows [of his family home] … and looking over to where Birkenhead and Liverpool were burning [after German bombing raids]. It was the middle of the night, I was aware of that, but it looked as though the sun had just gone down – a big red glow in the sky."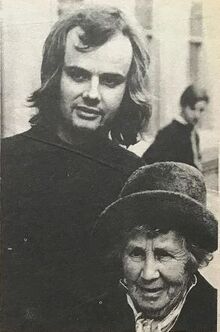 On a happier note, in the same programme Peel also fondly recalled the warmth of his Liverpudlian nanny, Florence "Trader" Horne[4], as well as her sisters and friends in Liverpool, "who could kind of become secretly friends of yours as well, and they were people that your parents didn't know."
As he grew older, Peel became better acquainted with the city across the water, despite being sent away to be educated at Shrewsbury School. He later wrote with delight about buying Teddy Boy drainpipe trousers and lime-green socks in Liverpool's Scotland Road ("symbols of wide-eyed rebellion I was anxious to keep from my family"), as well the acceptance he felt playing five-a-side football at Shrewsbury House club in Everton ("Father found these visits incomprehensible and assumed I was taking a less than wholesome interest in young boys").[5]
Before going to America, Peel briefly followed his father into Liverpool's declining cotton trade. During his sojourn in the USA, he returned to the city for holidays on a few occasions, writing about one such visit in early 1966, in the Kmentertainer.[11] On his return from the States, now a professional radio DJ, he soon became acquainted with the Liverpool poets of the hippie era.[6] He subsequently returned often to the city, most frequently to attend Liverpool matches[7] or live music events[8] but also for work related to the BBC.[9]
In 1984, he told Andy Peebles that he thought Radio 1 might decide to get rid of him when he reached 55:
But I hope to still be doing radio programmes somewhere. And I suppose I would like to go at some stage back to Liverpool. I mean, not being romancing, people like our Brian, or Sue actually, who is the programme secretary, and even John Walters, who is a cynical old brute, but when he was in Liverpool recently he went most of the way to admitting that it is quite a special place. So that's where I would like to go back eventually.[12]
Yet Radio 1 kept him on far beyond his 55th birthday, so this never happened. In November 2001, he happily acknowledged the inconsistency of living so far from the city while still proclaiming his love for it:
"There are an awful lot of people who love Liverpool who don't live there, and I am but one of them."[10]
Liverpool FC
(Main article: Liverpool)
Peel was a huge fan of Liverpool FC and attended many matches at its Anfield stadium in the city. Two of his children were named after the ground.[11]
Liverpool Music
(Related article: Liverpool: Sessions)
Peel's Merseyside background opened the way to his professional start in radio – as a "Beatles expert" for KLIF in Dallas – and he remained keen to support music from Liverpool, the city where he bought his first record[12] and also attended his earliest gigs.[13] In September 2004, he was still touting a local musical hero of the late 1950s and early 60s, Billy Fury, as the only "credible UK rocker".[13]
On his return to the UK in 1967, however, he didn't have many immediate opportunities to promote Liverpool artists, as by then the Merseybeat boom was over and newer talent tended to come from other parts of the UK. Nevertheless, he was a passionate Beatles fan at the time and also played tracks from the poetry and music LP The Incredible New Liverpool Scene, featuring Adrian Henri, Roger McGough and Andy Roberts, on the Perfumed Garden. In the early years of his BBC career, he also gave plenty of support and airplay to the band formed by Henri and Roberts, the Liverpool Scene. In his International Times column of 1967-11-17, after describing how he had "gathered spiritual strength" on a visit to Liverpool, he mentioned that he was anxious to obtain a copy of the Big Three's single "You've Got To Keep Her Under Hand" and asked his readers if they could help.[14] As time passed, he seemed increasingly fond of the more obscure Mersey groups of the 1960s and played tracks from compilations of their work - as well as reviewing one such anthology for Let It Rock magazine in 1975 (see below).[15]
On 15 April 1997, Peel cheerfully claimed:
"There are a couple of ways of getting records played on this programme that are pretty much near certainties. One is to have a song with the word Pig in the title, and the other is to come from Liverpool."
Generations of bands from the Liverpool area benefited from this partisanship, in the form of airtime for record releases and Peel sessions, from Liverpool Scene and Scaffold in the late 60s to Ladytron and Clinic in the early 2000s. Thirteen artists on the city's Probe Plus label were booked for sessions,[14] including Half Man Half Biscuit, while other long-term local favourites included The Farm and Wah!, whose 1980 debut single Peel described as "further proof that Liverpool is the cultural centre of the globe."[15]
In February 1979, Peel had been pleased to see that "things are beginning to happen in Liverpool again, after domination by rival Manchester in that area of the world ... for a couple of years anyway", singling out groups on the local Zoo label such as Big In Japan, Teardrop Explodes, and Those Naughty Lumps. He would later favour other "new Merseybeat" bands who emerged from Eric's club on Mathew Street such as Echo & The Bunnymen, Orchestral Manoeuvres in the Dark, Pink Military, China Crisis, Wild Swans and Dead or Alive, as featured in the related Rock Family Trees documentary narrated by Peel.[16]
In later years, Peel's most-cherished songs came to include 'Does This Train Stop On Merseyside?' by Amsterdam, which he first heard on a promotional album issued by Liverpool club The Picket as part of its fight against closure.[17] With lyrics alluding to historic events and landmarks in the city,[16] the song appealed to both his sentimental nature and enduring local pride.[18] On 10 December 2003, he admitted:
"It's now reached the point at which it makes me cry every time I hear it."[17]
Shows
John Peel in Liverpool, 1982
R1 week in Liverpool, 1983
Sound City, Liverpool, 1999
Plays
Songs
(Songs played by Peel referencing the city of Liverpool. Cover versions are excluded, unless no plays are known of the song by the original artist.)
Artist | Track | First Known Play
Liverpool Compilations
(The following list of various artist albums was compiled only from the database of this site and is chronological, by first play of the release. Except for "Jukebox At Eric's," assembled by Eric's club founder Roger Eagle, all of the releases feature music from the Liverpool area. Please add more details if known.)
(LP – This Is Mersey Beat, Vol. 1) Oriole
(2xLP – Mersey Beat 1962-1964) United Artists
(LP – Street To Street: A Liverpool Compilation) Open Eye
(2xLP – Mersey Sounds) Decca
(LP - A Trip To The Dentist) Skeleton
(LP – Jukebox At Eric's Vol 1: Rock 'N' Roll) Eric's
(LP – Street To Street, Volume Two) Open Eye
(LP – Live At The Cavern) London
22 August 1981:

Marauders

: track unknown (Peel forgets to give title), introduced by Bob Wooler, "the Andy Peebles of his day" (JP)
(LP – To The Shores Of Lake Placid) Zoo
(LP - Liverpool 1963-1964 Volume Two) See For Miles
(LP - The Zulu Compilation) Zulu
(LP - Small Hits & Near Misses / The Inevitable Compilation) Inevitable
(LP – Jobs For The Boys) Natalie
(LP – Ways To Wear Coats - A Compilation From Vulcan Studios) Vulcan
(2xLP – This Is Mersey Beat) Edsel
(LP - Liverpool Today "Where It All Began") Capitol
01 December 1990:

Richmond Group

: I'm All Right (John opines that this must be a collectors item now, and even at the time. John was only at the Cavern twice and once it was to see the Richmond Group.)
(CD/LP – The Zoo Uncaged 1978-1982) Document
(LP - The Dark Side of the Pool) Liquid Noise
(LP – Hits Of The Mersey Era, Vol.1) EMI
(2x7" - Liverpool) Plastic Cowboy
(CD – The Great Liverpool Acoustic Experiment) Viper
16 April 2002:

Hokum Clones

: If I Had Possession Over Judgement Day
(CD - Rhyme Pays: Liverpool Compilation) Picket promo
See Also
Links
References