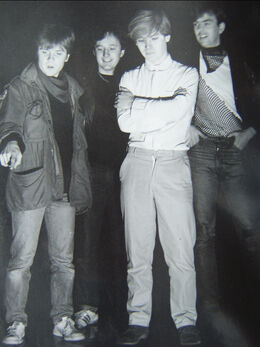 Active 1979 - 82 based in Rochdale. 
Line up: 
John Kay (Lead vocals/Guitar)
Alan Wild (Lead vocals/Guitar)
Ken Park (Bass)
Colin Schofield (Drums)
Formed from two other local bands, called Cry Tough and Physical Wrecks, both of which had played at the 'Deeply Vale' Festival in 1977.
Released Double A side single 'Blast the Pop' and 'Tomorrow' recorded at Cargo Studio's, Rochdale in 1980.
Festive Fifty Entries
Sessions
Shows Played
External Links