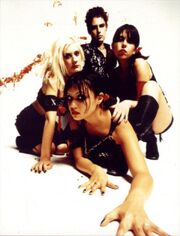 Lolita Storm was a digital hardcore band from Brighton, UK, consisting of Nhung Napalm (Nhung Dang), Romy Bonilla Medina, Jimmy Too Bad (Jim Thomas) and Spex (Rebecca Ridgers). They released their single debut "Goodbye America"/"Get Back I'm Evil" in 1999 on the Rabid Badger label. NME subsequently made this their "Single of the Week". In 2000 they released Girls Fucking Shit Up, their best known work to date, on Digital Hardcore Recordings. DHR also released two singles from the album: "Red Hot Riding Hood" and "Hot Lips Wet Pants". They followed Girls Fucking Shit Up with an EP, "Sick Slits". Lolita Storm's last single, "Studio 666 Smack Addict Commandos"/"I am Your Enemy" was released on 555 Recordings.
Musically, Lolita Storm was described as a digital hardcore band, with chanted punk lyrics about sex, bondage, drugs and feminism of a comical rather than deeply political form, put to a backdrop of generally highly aggressive digital hardcore. The band performed infamously short live sets, usually just over 10 minutes.
Nhung Napalm (real name, Nhung Dang), later became a qualified counsellor, hypnotherapist and regression therapist.
Links to Peel
Lolita Storm were first played by Peel in 1999 and the group later signed onto Alec Empire's record label, which JP often played artists from. So impressed by them, including being one of the very few UK artists who were part of the digital hardcore scene, that he invited the group twice to do a session for his show, which they did. After the early 00's, the group disappeared, although Peel played their 2000 track, Hot Lips, Wet Pants, on his 21 August 2002 show.
Sessions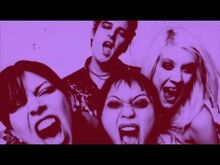 1. Recorded: 1999-07-21. First Broadcast: 25 August 1999
You Make Me High When You Go Down Low / So Bad I Love Him / Meat Injection / I Love Speed / Feeling Inside
2. Recorded: 2000-05-14. First Broadcast: 13 June 2000
Candy / I Love You So Much / Suzy / Boy
Other Shows Played
2000
2002
External Links