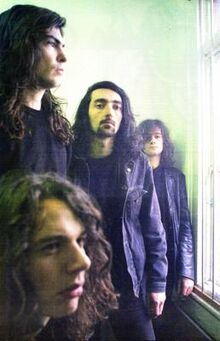 Loop are an English alternative rock band, formed in 1986 by Robert Hampson in Croydon. The group topped the UK independent charts with their albums Fade Out (1989) and A Gilded Eternity (1990). Their dissonant "trance-rock" sound drew on the work of artists like the Stooges and Can, and helped to resurrect the concept of space rock in the late 1980s.
The group split in 1991, with Hampson going on to form the experimental project Main with guitarist Scott Dawson, and Mackay and Wills forming the Hair & Skin Trading Company. In 2013, the 1989–90 lineup of Hampson, Dawson, John Wills, and Neil Mackay briefly reformed for a series of gigs, and the following year Hampson unveiled a new lineup of the band with himself as the sole original member.
Links to Peel
Peel mentioned on his 01 July 1987 show after playing their Deep Heat track that he would like to see them live sometime. It is not known whether he saw them live, but did invite them three times to perform sessions for his programmes, which they did. A collection of these sessions entitled Wolf Flow was released in 1991.
Peel also narrated the closing credits of the video called Gimme Shelter, while Loop's track Spinning (Parts One & Two) was playing. Gimme Shelter was a music compilation video consisting of over 30 indie music tracks released through the Melody Maker in 1987 to raise money to end homelessness via the Shelter charity organisation.
Festive Fifty Entries
Sessions
Three sessions. Official releases:
- On Various Artists: New Season: The Peel Sessions CD, 1991 (Strange Fruit, SFRCD 205)
- Wolf Flow - The John Peel Sessions (1987-90) 1991 Reactor LP3 / CD3 / C3
- Heaven's End 2xCD reissue, 2008 (Reactor, REACTOR 01 CD)
- Fade Out 2xCD reissue, 2008 (Reactor, REACTOR 03 CD)
- A Gilded Eternity 2xCD, 2009 (Reactor, REACTOR 04 CD)

1. Recorded: 1987-08-11. Broadcast: 19 August 1987. Repeated: 07 September 1987
Soundhead / Straight To Your Heart / Rocket USA
2. Recorded: 1988-06-14. Broadcast: 27 June 1988. Repeated: 19 July 1988, 22 August 1988
Pulse / Collision / This Is Where You End
3. Recorded: 1990-01-21. Broadcast: 31 January 1990. Repeated: 13 March 1990
Afterglow / From Centre To Wave / Sunburst
Other Shows Played
1987
1989
03 February 1990 (BFBS): The Nail Will Burn (album - A Gilded Eternity) Situation Two
1991
Loop - Rocket USA (Suicide Cover)

June 1991 / Peel 004 (Radio Bremen): Soundhead (LP - Wolf Flow (The John Peel Sessions (1987-90))) Reactor
28 June 1991 (BFBS): Rocket USA (LP - Wolf Flow (The John Peel Sessions (1987-90)) Reactor (JP: 'Yet another name check for me')
06 July 1991: Rocket USA (2x12" - Wolf Flow (The John Peel Sessions (1987-90))) Reactor
11 July 1991 (Radio Mafia): Soundhead (LP - Wolf Flow (The John Peel Sessions (1987-90))) Reactor
27 December 1991 (BFBS): 'Cinnamon Girl (Compilation LP-The Bridge - A Tribute To Neil Young)' (Caroline)
External Links
Community content is available under
CC-BY-SA
unless otherwise noted.