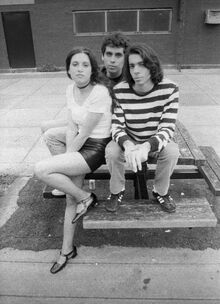 Love Child was an American New York City-based alternative rock band whose music combined elements of punk rock and no wave. The band was formed in 1987 by Will Baum, the band's drummer, guitarist, and vocalist, and Rebecca Odes, the band's bassist and vocalist. Alan Licht later joined the band as another guitarist, drummer, and vocalist. When the band was formed, Licht, Odes, and Baum were all students in the class of 1990 at Vassar College. In February 1990, Love Child recorded their debut studio album, Okay?. Later that year, the zine Forced Exposure released Love Child's EP Love Child Plays Moondog. This EP, to which Baum did not contribute, featured four of the band's covers of Moondog songs. Baum left Love Child between the recording of Okay? in 1990 and its release the following year. His role as drummer was subsequently filled by Brendan O'Malley. Okay? was released on Homestead Records in late 1991. The band released its second and final studio album, Witchcraft, in 1992; they broke up soon afterward, with all the members pursuing some kind of solo career or joining other bands.
Links to Peel
Peel had a copy of the band's Okay? album and would often play tracks from it on his shows in 1992 and also couple of their singles. After the band split, he managed to play some of the member's new bands, including singer Rebecca Odes' solo career under the name of Odes, which he played a track on his shows in 1994.
In 2007, Ken Garner's The Peel Session book revealed that the band recorded a session in December 1992, which was not aired. According to Ken, (in The Peel Sessions, p. 304):
No BBC data or regular listener can find a trace of this having been broadcast. Considered opinion is that the session, which is just dandy, was simply overlooked on the shelf. It happens sometimes.
Shows Played
Love Child
Odes
External Links
Community content is available under
CC-BY-SA
unless otherwise noted.