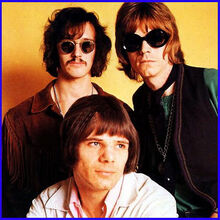 Love Sculpture were a Welsh blues rock band of the late 1960s, led by Dave Edmunds (born David William Edmunds, 15 April 1944 in Cardiff, Glamorgan, South Wales), plus bassist John David (born John David Williams, 19 January 1946 in Cardiff, South Wales) and drummer Rob "Congo" Jones (born Robert Jones, 13 August 1946 in Barry, Glamorgan, South Wales). Love Sculpture was founded in Cardiff, Wales in 1966 by former members of The Human Beans. The group disbanded in 1970, although Edmunds went on to enjoy solo success in the 1970s. The band are best known for their 1968 novelty hit in the UK Singles Chart, a high speed cover version of the classical piece "Sabre Dance" by Aram Khachaturian, released on the Parlophone label, which reached No. 5 in the UK Singles Chart in December 1968.
Links to Peel
"Sabre Dance" became a hit after receiving airplay by Peel, who was so impressed that he played it twice in one programme[1], on 06 October 1968. At the time the band had only recorded it as a session track, but, as producer Bernie Andrews recalled (in Ken Garner, The Peel Sessions, p.57),  after Peel had enthused over it, the piece was re-recorded and rush-released by Parlophone Records and reached number five in the singles chart, eight weeks after being first heard on Top Gear..
Love Sculpture recorded three sessions, made up mainly of blues and rock'n;roll cover versions, for Peel, two in 1968 and one in 1969, but were unable to repeat the success of their only hit, despite attempting another rock version of a classical piece, Georges Bizet's "Farandole", in their final session. However, after they split up, leader Dave Edmunds continued to perform in a rock'n'roll influenced style, had a successful career in the 1970s both as a solo artist and with his group Rockpile, and picked up airplay on Peel's shows.
Sessions
1. Recorded: 1968-04-02. Broadcast: 21 April 1968. Repeated: 19 May 1968
Brand New Woman / River To Another Day / Do I Still Figure In Your Life / Stumble / Sweet Little Rock-N-Roller
2. Recorded: 1968-09-16. Broadcast: 06 October 1968. Repeated: 03 November 1968
Rebel / Wang Dang Doodle / Promised Land / Sabre Dance / Don't Answer The Door
3. Recorded: 1969-01-28. Broadcast: 02 February 1969. Repeated: 09 March 1969
Farendale / Great Balls Of Fire / Evening / Inner Light
Other Shows Played
1970
1996
21 March 1996: In The Land Of The Few (v/a album - The Great British Psychedelic Trip Vol. 3 1965-1970) See For Miles
External Links
References
↑ Source comes from the sleeve notes of Dave Edmunds - The Dave Edmunds Anthology (1968-90) CD, released on Rhino Records