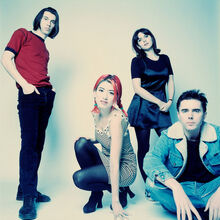 Lush were an English indie band formed in London in 1987. The original line-up consisted of Miki Berenyi (vocals, guitar), Emma Anderson (vocals, guitar), Steve Rippon (bass guitar) and Chris Acland (drums). Phil King replaced Rippon in 1991. They were one of the first bands to have been described with the "shoegazing" label. Following the death of Acland, the group disbanded in 1996. The group reunited for a short time between 2015 and 2016 with Berenyi, Anderson, King and Justin Welch. They toured and recorded an EP of new material.
Links to Peel
In an 2021 interview with Miki Berenyi for the Get In Her Ears website, she praised Peel for playing a wide range of music on his shows:
"People loved John Peel's radio show because he had wide-ranging tastes and could see value in everything from heavy metal to hip hop, punk-rock to jazz – whatever the artist's race or sex or class. We need more people with a similar passion in positions of power and influence, so women don't feel like they are lucky interlopers, competing against one another for precious space because there is only room for a limited number of female voices." [1]
Peel played many tracks from Lush on his shows and invited them to do a session for his programme, which they did in 1990.
Festive Fifty Entries
Sessions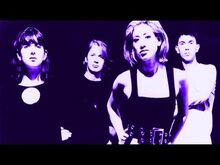 1. Recorded: 1990-01-23. First Broadcast: 19 February 1990. Repeated: 22 March 1990
Hey Hey Helen / Leaves Me Cold / Breeze
Other Shows Played
1989
1991
06 July 1991: Chirpy Chirpy Cheep Cheep (v/a album - Alvin Lives (In Leeds))  Midnight Music
1992
1994
27 May 1994: 'White Wood (CD Single – Desire Lines )' 4AD
1996
External Links