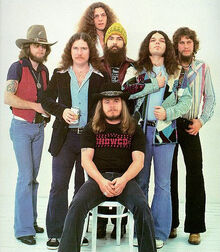 Lynyrd Skynyrd, colloquially called Skynyrd, is an American rock band best known for having popularized the Southern rock genre during the 1970s. Originally formed in 1964 as My Backyard in Jacksonville, Florida, the band was also known by names such as The Noble Five and One Percent, before finally deciding on "Lynyrd Skynyrd" in 1969. The band gained worldwide recognition for its live performances and signature songs "Sweet Home Alabama" and "Free Bird". At the peak of their success, band members Ronnie Van Zant and Steve Gaines, and backup singer Cassie Gaines, died in an airplane crash in 1977, putting an abrupt end to the 1970s era of the band.
The surviving band members re-formed in 1987 for a reunion tour with lead vocalist Johnny Van Zant, the younger brother of Ronnie Van Zant. Lynyrd Skynyrd continues to tour and record with co-founder Gary Rossington, Johnny Van Zant, and Rickey Medlocke, who first wrote and recorded with the band from 1971 to 1972 before his return in 1996. Fellow founding member Larry Junstrom, along with 1970s members Ed King and Artimus Pyle, remain active in music but no longer tour or record with the band. Michael Cartellone has recorded and toured with the band since 1999.
Links to Peel
Lynyrd Skynyrd was played often on Peel's shows in the early 70's and when the band released their third album in 1975, Peel on his 05 April 1975 Rock Week show mentioned that he thought it was pretty tasty but not as good as their debut album. The punk era effectively made Skynyrd's music less prominent on Peel's show during the late 70's and by the end of the century, their songs were almost forgotten in his playlists. In 2000, Cat Power did a cover of Skynyrd's Free Bird for Peel's session.
Festive Fifty Entries
Shows Played
1975
05 April 1975: On The Hunt / Saturday Night Special (LP - Nuthin' Fancy) MCA
1976
29 December 1976: 'Freebird (LP-(Pronounced 'Lĕh-'nérd 'Skin-'nérd))' (MCA) FF #20
1978
1994
See Also
External Links
Community content is available under
CC-BY-SA
unless otherwise noted.