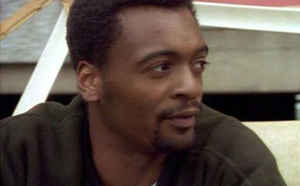 MC Buzz B is the alter ego of Manchester hip-hop artist Shorn [1] Braithwaite. All Music outline his career thus:
"Eco-conscious UK rapper who allied his intelligent, highly wordy raps to a jazz/soul/funk mélange which was characterised beyond anything else by its cool, restrained vibe. He debuted for Manchester independent Play Hard with the 12-inch only 'Slaphead' in May 1988, following it with 'How Sleep The Brave' and 'The Sequel' the following year. It was enough to procure a recording contract from Polydor Records, who released his ironically titled debut album in 1991. However, a series of singles, 'The Last Tree', 'Never Change' (delayed due to problems in obtaining clearance on a sample from Bruce Hornsby's 'That's Just The Way It Is') and 'Don't Have The Time' during that period failed to break him, as he became yet another UK hip-hop under-achiever. He made a comeback in 1993 by providing the vocal to Lionrock's 'Pocket Of Peace'."
Links to Peel
JP supported MC Buzz B throughout his period in the limelight via repeated plays of his singles and virtually the whole of his LP (including three tracks in one show). A session (containing only two tracks instead of the customary four) appeared in 1990.
Festive Fifty Entries
Sessions
One session, produced by Dale Griffin. No known commercial release.
1. Recorded: 1990-02-15. First TX: 14 March 1990. Repeated: 23 May 1990.
Mr Smooth / Good Mourning
Other Shows Played
External Links
Footnotes
↑ The Peel Sessions names him Sean.
Community content is available under
CC-BY-SA
unless otherwise noted.