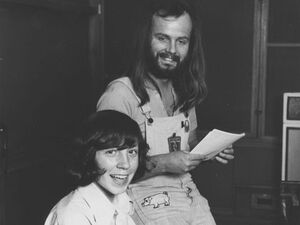 Mal (Maldwyn) Pope
(born 18 May 1960), is a Welsh musician and composer, who is notable for his contribution to music theatre portraying Welsh national identities and themes. As a gifted singer and songwriter at a young age, he learnt to play the guitar at the age of seven, when his brother David bought him the instrument. At school, Mal was encouraged by Peter Williams, a bongo playing young teacher to play his songs in front of the school at the drop of a hat. Band practises consisted of a couple of kids and the teacher sitting down to learn the latest songs by
Ralph McTell
or the
Beatles
. By the time he reached the age of 13, Mal's songwriting and musical skills attracted
Elton John
, who signed him to his Rocket Record label. Unfortunately for Mal, disputes with record companies led him to release only one single before quitting the label to study Land Economy at Cambridge University. After university, Mal joined BBC Radio Wales as a producer and later got into singing the themes tunes for children's TV programmes such as
Fireman Sam
and
SuperTed
. He also had his own chat show on ITV's Wales regional channel HTV and tried to represent Britain in the
Eurovision Song Contest
in 1987, but got placed seventh in
A Song For Europe
. Mal still continues producing albums and recently has got involved in writing musicals for theatres.
Links To Peel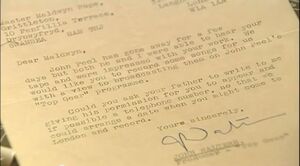 In the spring of 1973 Mal's brother sent a tape of some songs Mal had written to John Peel on
BBC Radio One
. Peel was so impressed that he invited Pope to record a session for
Top Gear
in July. The broadcast became the subject of a short news item in
Record Mirror
, complete with a photograph of a smiling Peel standing next to Pope playing the piano (
[1]
, p.6).
John Walters
, invited Mal to perform a session on the late night Sounds Of The Seventies show and a few weeks later
Elton John
had made contact asking Mal's parents if it would be okay to sign him to his record company. John Walters had been a key person in signing Mal to Elton John's Rocket Records. Walters told Mal's parents that there was another record company that had shown interest, but they weren't as established as Elton's company. That other company was Virgin Records, owned by
Richard Branson
. Mal later did more sessions for Peel, but by the time he reached puberty, his voice had broken and his music career was postponed until he reached adulthood. At the age of 13, Mal Pope is considered to be the youngest Peel Session artist.
Mal has managed to sustain a career, which has taken in gospel music, Welsh choral singing and musical theatre. He was quite prolific during the 1980s in particular, but by then he was working with the likes of Cliff Richard and Bonnie Tyler, in musical fields which didn't appeal to Peel - so his music vanished from Peel's playlists.
Speaking on his show on 05 December 2000, Peel remembered Maldwyn's first visit to London and an unlikely celebrity encounter:
"We picked him and his older brother who'd come up with him from I think it was Swansea, and they'd never been in London before. And we picked them up at Victoria station 'cos in those days you could get on a train in Swansea and it would go to London and you got off. It sounds almost impossible now, doesn't it? But that's the way it used to work. We were driving up through London and we were just coming into the bottom end of Hyde Park and Maldwyn was sitting in the back of my car and I was with my then producer John Walters and we stopped at this traffic light and he said - I won't try and do the Welsh accent actually, although I would if I didn't have the microphone open - he said, "you must see lots of famous people in London." and we said "well actually you do Maldwyn". And at that moment, Benny Hill walked in front of the car. We said, "there you are! There's Benny Hill!" I think he thought it was true and he probably still does."
Sessions
1. Recorded: 1973-07-10. Broadcast:
17 July 1973
. Repeated:
05 February 1974
,
D031
Truly / Couldn't Be Wrong / Shall We Go To Sea / Dream Castle / That Is The Question / How Can I Forget You?
2. Recorded: 1974-03-04. Broadcast: 26 March 1974. Repeated: 30 April 1974
Maybe It's Wrong / Gunfighter / All Day / Autumn
3. Recorded: 1974-08-05. Broadcast: 17 October 1974. Repeated: None
Lazy Country Days / Don't Say / Don't You Know
Other Shows Played
(Please add further information if known)
External Links
Community content is available under
CC-BY-SA
unless otherwise noted.