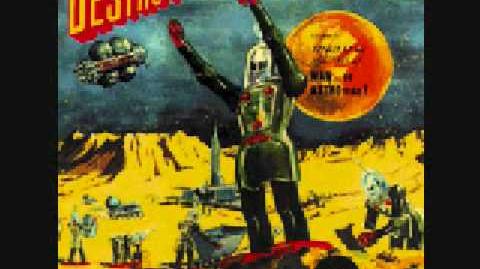 "'They are clever boys, y'know...they manage to ring the changes within what they do fairly well, I would suggest...I hope they're around for a very long time...I think I've probably played more records by Man Or Astro-Man? over the last four or five years than anybody else except the Fall." [1]
Man Or Astro-man? is an American surf rock group that formed in Auburn, Alabama, in the early 1990s and came to prominence over the following decade ... (Read more at Wikipedia)
Links to Peel
Man Or Astro-Man? were firm favorites of Peel in the 1990s and beyond, and they reciprocated by naming tracks after him in their second, third and fifth sessions. On his 15 July 1995 show, the DJ interviewed the band live from the Phoenix festival.[2] In 2005, the band posted a MySpace blog entitled "'John Peel is our God', which included the following comment:
"All said and done, credit for our success in Europe is due to about 5 people- John Peel being the foremost of them. The band did 7 Peel Sessions that serve as a live version catalogue of 30 or more songs. I can't tell you how much this helped our band in Europe. There was no reason why a weird little instrumental band like us should have gotten to travel so much and play to so many people. I will always be grateful to Mr. Peel for giving a shit about us. He had been playing our first 7" in 1993 and I wrote him and told him to stop playing it or we would come over and kick his ass- some fanzine printed a copy of the postcard, but I can't remember who that was. I guess having nerdy kids from Alabama threatening to fight you if you don't stop playing their is music is endearing to someone as cool as Mr. P."
Festive Fifty Entries
Sessions
Six sessions. The third was selected as one of the Peel Sessions: The Best 125.
1. Recorded: 1993-12-21. First Broadcast: 22 January 1994. Repeated: 26 November 1994.
Nitrons Burnout / Invasion Of The Dragonmen / Xl 3 / Mermaid Love / Rovers
2. Recorded: 1995-03-19. First Broadcast: 29 April 1995. Repeated:
Sferic Waves / Untitled / Put Your Finger In The Socket / Max Q / Inside The Head Of Mr John Peel
3. Recorded: 1996-06-11. First Broadcast: 13 July 1996. Repeated:
Welcome To The Wicky Wacky World Of John Peel / The Man Made Of CO2 / 9 Volt / Television Fission
4. Recorded: 1997-07-13. First Broadcast: 29 July 1997. Repeated: 18 November 1997.
The Miracle Of Genuine Pyrex / Lo Batt / Don't Think What Jack / With Automatic Shut Off / Jonathan Winters Frankenstein
5. Recorded: 1999-06-27. First Broadcast: 27 July 1999. Repeated: 20 January 2000
Engines Of Difference / Theme From Eeviac / Oh Cha Cha Cha And Once Again Ladies & Gentlemen I'm John Peel And While Only A Minor Political Activist I'd Like To Say That Man Or Astroman Is Indeed My Favourite Band Ever Even Moreso Than The Fall / Krasnoyask 26 (Forward Version) / Many Pieces Of Large Fuzzy Mammals Staggered Together At A Rave And Snoozing With A Brick
6. Recorded: 2000-11-01 (live at Maida Vale). First Broadcast: 01 November 2000. Repeated:
Spectrograph Reading Of The Varying Phantom Frequencies Of Chronic Incurable Tinitus / Theme From Eeviac / Song For The Two Mile Linear Particle Accelerator, Stanford University, Stanford, Calif. / Television Fission / Preparation Clone / Within One Universe There Are Millions / Engines Of Difference / Many Pieces Of Large Fuzzy Mammals Gathered Together At A Rave And Schmoozing With A Brick / Um Espectro Sem Escala / Interstellar Hardrive / Curious Constructs Of Stem Like Devices Which Now Prepare Themselves To Be Thought Of As Fingers
(Please correct mistakes and add any missing info)
Other Shows Played
(The list below was compiled only from the database of this site and Lorcan's Tracklistings Archive and is almost certainly incomplete. Please add any missing info if known.)
1993
1994
1995
1996
1997
1998
1999
2000
2001
2002
18 April 2002: Wayward Meteor (magazine sampler CD – The Continental #9)
2003
Other
External Links