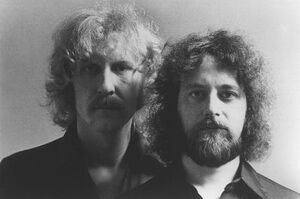 This article is about the British group. For the British singer and his projects, see Marc Almond.

Mark-Almond were an English jazz/rock group who were active from 1970 until 1978. Jon Mark and Johnny Almond met while both were recording with John Mayall in 1969. Mark had a long pedigree as a musician, having played with Marianne Faithfull and Alun Davies among others. Almond in his turn was at one time a member of the Alan Price Set, as was John Walters.
The pair formed Mark-Almond in 1970 with Tommy Eyre and Roger Sutton. Drummer Dannie Richmond was added in time for the second album in 1971. In 1972-73 the band expanded to seven members and underwent some personnel changes before disbanding. Jon Mark and Johnny Almond reformed Mark-Almond as a duo in 1975, recording four more albums before breaking up for good in 1978. Johnny Almond died on 18 November 2009 from cancer, aged 63.
Links to Peel
The group recorded one session for Top Gear at the Transcription Service in Shepherd's Bush, which was produced by John Muir. It featured the original band as listed above, and included The Little Prince from their third album, Rising. Peel joked on the repeat of Morning Always Comes Too Soon, "I have the same problem meself: there's nothing you can do about it." There is currently no evidence that he played any of their other material. The band's back catalogue has seen a recent series of German CD remasters which failed to take the opportunity to include the session.
Festive Fifty Entries
Sessions
One session, no known commercial release. Garner reports previous sessions for Bob Harris and names the band Mark Almond.
1. Recorded: 1972-06-27. First broadcast: 21 July 1972. Repeated: 18 August 1972 (on this date, first track not TX)
The 11-4 / Morning Always Comes Too Soon / The Little Prince
Other Shows Played
External Links