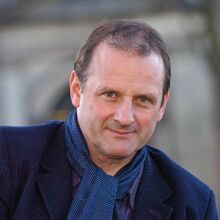 Mark Radcliffe (born 29 June 1958) is an English broadcaster, musician and writer. Born in Bolton, Lancashire, he is best known for his broadcasting work for the BBC, for whom he has worked in various roles since the 1980s.
Radcliffe began his broadcasting career in local commercial radio in Manchester before a move to the national station BBC Radio 5, where he met and formed a partnership with former the Fall guitarist Marc Riley. In 1991 he moved to BBC Radio 1 closely followed by Riley with whom, under the moniker Mark and Lard, he worked for 14 years on the station. The pair's stint on Radio 1 included a brief and opinion-dividing spell on the flagship The Radio 1 Breakfast Show and a subsequent afternoon slot show which garnered three prestigious Sony Radio Academy Awards.
When the Mark and Lard duo departed BBC Radio 1 in 2004, Radcliffe joined BBC Radio 2 and has also presented various TV shows for the BBC including their coverage of the Glastonbury Festival. He remains a presenter on BBC Radio 2, where he presents the weekly programme The Folk Show. On BBC Radio 6 Music he co-hosts a weekday afternoon show, Radcliffe & Maconie with Stuart Maconie.
Links To Peel
Radcliffe's Radio 1 career started in 1983 when he produced sessions at Maida Vale Studios for John Peel's show, but it wasn't until 1991 that he became a presenter on the station and Peel would himself sit in for Radcliffe's show in 1996, while he was away. After Peel's death, Radcliffe paid tribute to the DJ in a BBC obituary:
"John was the only radio presenter to make me inspired to want to become one myself. He was someone with a warmth and honesty who really loved music, rather than someone who wanted to be a famous DJ. John showed that it was possible to be a broadcaster on a national radio station and still be yourself. He was a maverick and a peer, and a role model for so many of us."[1]
Shows
List of shows Peel sat in for Mark Radcliffe:
External Links
Community content is available under
CC-BY-SA
unless otherwise noted.