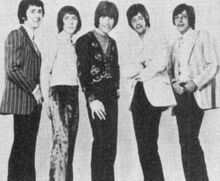 Marmalade is a Scottish pop rock band from the east end of Glasgow, originally formed in 1961 as The Gaylords, and then later billed as Dean Ford and the Gaylords. In 1966 they changed the band name to The Marmalade. The most successful period for the band, in terms of UK chart success, was between 1968 and 1972. From the early 1970s, after the original players began to drift away, the band evolved with many further changes and still exists to this day touring the nostalgia circuit. With the departure of Graham Knight in September 2010, there are now no original Marmalade members remaining in the band.
Links To Peel
Peel didn't seem to be a fan of the group according to singer Junior Campbell in the Melody Maker published on 29th June 1968:
"It's funny – John Peel doesn't like us. We've done every radio show except his. To quote John Peel: 'It's ridiculous.' Maybe we're not beautiful enough. We're sorry to be so commercial. But this is our living. This is the way we earn our keep and we want to make hits and please people. Before we had a hit, quite a few other groups raved about us, but nobody else bothered about us. As long as the public buy our records, that's all we are worried about now." [1]
It was true that Marmalade, like other late 1960s groups such as Amen Corner and Love Affair, tended to be thought of as a commercial, "teenybopper" outfit and at first weren't taken seriously by Peel or his listeners. They had a big hit with a cover of the Beatles' "Ob-La-Di, Ob-La-Da" which didn't add anything to the original version. But in late 1969 they changed style and released "Reflections Of My Life", which appealed to the Sounds Of The Seventies audience as well as listeners to Radiio One's daytime shows. It turned out to be their all-time best-seller, reaching #3 in the UK charts and gaining a Golden Disc for worldwide sales.. By the time he introduced them live from the Paris Theatre on his Sunday show of 14 December 1971, Peel's attitude toward the band appeared to have changed. He mentioned liking their singles and their recent album. He also stated that their single "Cousin Norman" was his all time best single and admitted to singing along to it with the Pig in his flat.
Festive Fifty Entries
Sessions
Live
Recorded: 1971-12-14. Broadcast: 14 December 1971
Mama Goose Love
Empty Bottles
(JP: 'This next one is a favourite of mine I think from the LP and it's called Sarah')
Sarah
Back On The Road
Jody
Lady Of Catrine
Who Needs You
Other Shows Played
None according to current playlists on the wiki site.
External Links