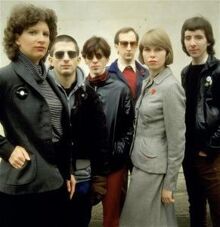 Martha & The Muffins were a new wave group originally formed in Ontario, Canada in 1977 by art students Mark Gain and David Millar. The titular Martha was vocalist and keyboard player Martha Johnson, although they were later joined by namesake Martha Ladly, also contributing vocals and keyboard parts. After an initial independent release the group were signed to Virgin subsidary Dindisc for whom they recorded their debut album Metro Music (1980), featuring the international hit "Echo Beach", in the UK. A second album Trance & Dance quickly followed in the same year although failed to produce any further hits. They returned to Canada for a third album, This Is the Ice Age (1981), produced by Daniel Lanois, although were dropped by Virgin soon after and split up.
Ladly briefly collaborated with Associates in 1982, before embarking on a career in design, while Gain and Johnson resurfaced as duo M+M in 1983.
A reworking of the 1984 M+M track "Come Out And Dance", called "Stay Home And Dance", was released in May 2020 in response to the COVID-19 pandemic lockdown.
Links to Peel
After picking up on their early single release for Dindisc in 1979, Peel was also keen to showcase their debut album on its release in February 1980, as well as playing their hit single Echo Beach which was receiving plenty of daytime airplay. Attention seems to have waned with the second album.
Sessions
Shows Played
See Also
External links
Community content is available under
CC-BY-SA
unless otherwise noted.