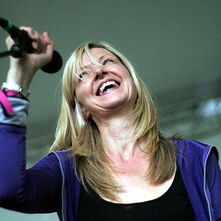 Mary Anne Hobbs (born 16 May 1964) is the presenter of the Weekend Breakfast Show on BBC 6 Music and a former longtime colleague of John Peel on BBC Radio One. As her show followed his on Tuesday nights in the late 90s and early 2000s, she was often invited into his studio for an on-air chat about what was going to be on The Rock Show. It was also common for Peel to play a death metal track near the end of his own programme as a taster for her show.
Career
A fan of rock, metal (and with a love of motorbikes) from an early age, Hobbs fronted the Radio 1 Rock Show and the experimental / electronic Breezeblock on BBC Radio 1 for 14 years, until September 2010. She returned to radio in the primetime slot with Xfm in July 2011. On 3 December 2012, the BBC announced that Hobbs was to become the new Weekend Breakfast presenter for BBC Radio 6 Music … (read more at Wikipedia.)
Links to Peel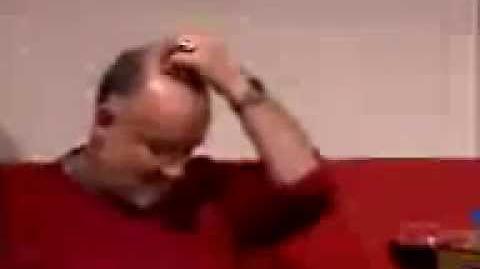 In a 2008 interview, Hobbs remembered her earliest experiences of listening to Peel:
When I was young, my dad banned music from our house and would routinely smash up all my records. The only thing he never found was a tiny transistor radio I had about as big as a can of tuna. I used to hide under my blankets in the dead of night, scrolling across the dial, looking for John. For me, he stood at the gateway to a magical alternate universe. He was the only evidence I had that this place existed, but he set me on a lifelong journey to find it. [1]
Peel always appeared fond of the younger DJ and happy when she turned up in the Radio One studios during his programme. In turn, Hobbs continued to mention him often in interviews long after his death; for example, likening his reaction to punk to her own feelings when first hearing dubstep, which she came to champion. [2] In the John Peel's Record Box TV documentary, she commented:
In spite of all the managerial pressures on him to change, to compromise, to sell out, he never did it, and he's a shining example to all of us, about how you live your life, basically.
In a December 2012 blog post, she recalled that the last time she saw Peel was to give him a 65th birthday present of a specially made neon sign featuring the words in pink letters "Dream Dad." [3] In 2014 she gave a "Sunday Sermon" for The School of Life, the project run by philosopher Alain De Botton, entitled "A DJ Saved My Life". She also contributed a post to the School of Life blog, entitled "Five Things I Learnt From John Peel".
External Links
Community content is available under
CC-BY-SA
unless otherwise noted.