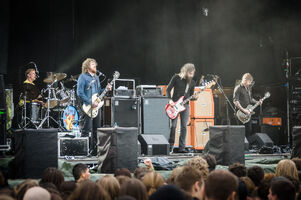 Mastodon is an American heavy metal band from Atlanta, Georgia. Formed in 2000, the group is composed of bassist Troy Sanders, guitarists Brent Hinds and Bill Kelliher, and drummer Brann Dailor, all of whom perform vocals both in the studio and live. Their musical style features progressive concepts and unique instrumentation. Mastodon has released seven studio albums, as well as a number of other records. The band's debut album, Remission, released in 2002, garnered significant critical acclaim for its unique sound. Mastodon's second full-length release, Leviathan, is a concept album based on the novel Moby-Dick by Herman Melville. Three magazines awarded the record Album of the Year in 2004: Revolver, Kerrang! and Terrorizer.
Links To Peel
Peel played tracks from the band's debut album and nominated it as his album of the month in June 2004 (Peel's Record Box). In 2004, Peel didn't seem to be impressed with the music at Glastonbury and played a track from Mastodon on his 29 June 2004 show highlighting how the group was different and the perceptions on what people would think of the band:
"Loads of people at Glastonbury came over and asked me what I thought of the music and stuff, and er, by and large there wasn't an awful lot, apart from the things we're going to be playing later in these programmes, HA, to set the pulses racing I felt. But what I really wanted was a kind of "tasteless" stage where there'd be bands playing that really made people think "Oh come on, this is too much" and I always cited as an example of this, when people said "Well what sort of thing do you mean?", I said "Well, Mastodon, for example", no particular reason that I picked them, but I picked them fairly consistently, and then when people said "What do Mastodon sound like?", I said "I'll play you a track on Tuesday night's programme". This is it ..."
Shows Played
2003
2004
External Links