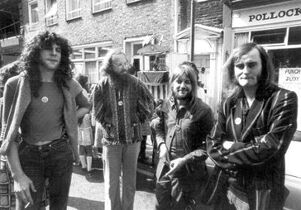 Matching Mole were a short-lived UK progressive rock band from the Canterbury scene best known for the song 'O Caroline'. Robert Wyatt formed the band in October 1971 after he left Soft Machine and recorded his first solo album, The End Of An Ear. He continued his role on vocals and drums and was joined by David Sinclair, of Caravan, on organ and piano, Phil Miller on guitar and Bill MacCormick, formerly of Quiet Sun, on bass. The name is a pun on Machine Molle, the French translation of the name of Wyatt's previous group, Soft Machine … (read more at Wikipedia)
Links To Peel
Peel kept up his interest in Robert Wyatt's work when the drummer formed Matching Mole, who did three sessions for his show during their short lifespan. They broke up in 1972 but planned to resume in 1973 with a new line-up, until Wyatt's accident in July of that year, which left him unable to play the drums. Peel was among those who rallied round to support him (see the Robert Wyatt page for details).
Wyatt's long solo career meant that Matching Mole's work tended to be overlooked - with the exception of "O Caroline", which became one of the DJ's all-time favourites. It was apparently written to Caroline Coon[1], after she and Wyatt had split up. Peel featured it in the summer 1976 retrospective show devoted to Soft Machine and it various offshoots and described it as one of the few good love songs of the 1970s. "O Caroline" also received a 1976 Festive Fifty entry from Peel's listeners at number 46 and appeared in the Peelenium 1972.
Festive Fifty Entries
Sessions
Three sessions. All were released on On The Radio CD, Hux Records (HUX083).
1.Recorded: 1972-01-17. First broadcast 25 January 1972. Repeated 28 March 1972.
Immediate Kitten / Brandy (Re-Named 'Part Of The Dance')
2.Recorded: 1972-03-06. Transmitted: 24 March 1972. Repeated 22 September 1972.
No 'Alf Measures / Lything And Gracing
3. Recorded 1972-04-17. First broadcast 09 May 1972. Repeated 06 June 1972.
Marchide/Instant Pussy (Smoke Signal – first TX on June repeat)
Other Shows Played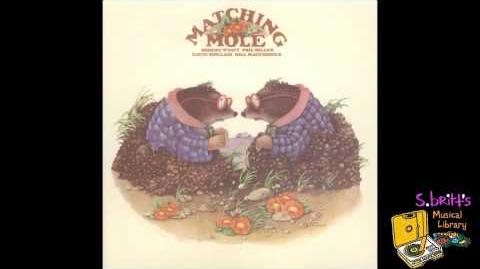 1972
Other
See Also
References
↑ It is not known whether Peel and Coon were friends, but she was a well-known figure in the late 1960s London underground scene and the founder of the charity Release, which provided legal aid to young people facing trial on drug charges. The DJ urged his readers to support Release in his International Times columns; "You must support RELEASE in any way you can - you may be next. Regard them as a Freedom Bank"[1]. Later she wrote for Melody Maker and managed the Clash.
External Links
Community content is available under
CC-BY-SA
unless otherwise noted.