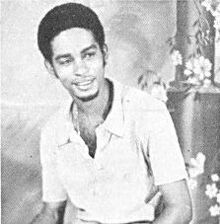 Max Romeo (born Maxwell Livingston Smith, 22 November 1944) is a Jamaican reggae and roots reggae recording artist who has achieved chart success in his home country and in the United Kingdom. Romeo had several hits with the vocal group the Emotions. His single "Wet Dream" reached number 10 in the UK singles chart in 1969 and included overtly sexual lyrics. The song 'Chase The Devil' was later sampled and used in Out Of Space by The Prodigy and 'Lucifer' by Jay-Z (which appeared on The Black Album).
Links To Peel
Peel was generally an admirer of reggae music, including the work of Max Romeo. In the 2002 BBC TV documentary Reggae: The Story Of Jamaican Music, he described the singer's big hit, 'Wet Dream' - which featured the contentious lyrics 'lie down girl, let me push it up, push it up' - as a great pop record.
In 1976, Romeo's landmark 'War Ina Babylon' LP was produced by Peel favourite Lee Perry. After Peel's death, a Romeo/Perry collaboration, 'Sipple Out Deh', was found among the DJ's most precious singles in John Peel's Record Box.
John Peel's Record Box
Sipple Out Deh / Revelation (Upsetter) 1976
Shows Played
1970s
1980s
1990s
2000s
External Links
Community content is available under
CC-BY-SA
unless otherwise noted.