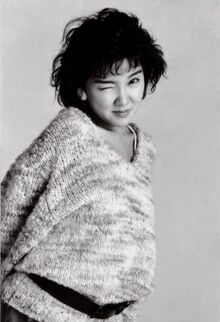 Mayumi Chiwaki (real name: Mayumi Seigaku 地脇真由美) (sometimes known as Chiwaki or Chiwaki Mayumi) (born: 2nd February 1963) is a Japanese musician and radio personality from Tokyo, Japan. Originally part of the synth pop group Menu, she later went solo and released her debut album in 1984. Between 1998 and 2001, she was a member of Mean Machine.
Links To Peel
Peel mentioned on his 06 June 1988 show receiving a Japanese Beatles cover compilation album sent from his friend in Tokyo. After hearing the album, Peel wasn't impressed with most of the songs, but did like Mayumi's cover of A Hard Day's Night, which was played on the show. The song was later added to The Exotic Beatles compilation album series, that were released in the early 90's which Peel played some tracks from on his shows.
Shows Played
06 June 1988: ア・ハード・デイズ・ナイト (ビートルズがやって来るヤァ!ヤァ!ヤァ!) / A Hard Days Night (LP - 抱きしめたい) Eastworld
External Links
Community content is available under
CC-BY-SA
unless otherwise noted.