"Simply one of the most extraordinary performances I have ever seen and ever heard ... just mesmerizing, absolutely astonishing."
(John Peel, after witnessing Melt-Banana's first live session at Maida Vale, 21 September 1999)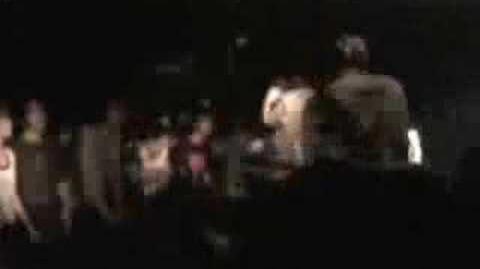 High-speed Japanese noise punk trio based around the yelping vocals of Yasuko Onuki and shredding guitar of Ichirou Agata.
Links To Peel
"As regular listeners will know, Melt-Banana for me, one of the most astonishing bands on earth. In fact, if somebody were to say to me, 'is there any band that you believe is actually from another planet?' I'd say, well, Melt-Banana. Has to be a good chance. (John Peel, 29 May 2003)
Peel was a huge admirer, describing them as "one of the world's great bands" (21 September 1999) and played them with great regularity from the 1990s onwards.
Tribute to Peel
(From the band's official site)
2004/11/12
Today is the funeral of Mr.John Peel. For us, he was like Santa Clause. We feel so maybe because of his beard and his big round eyes, but not only because of that, of course. He gave us many things and did many thing for us, and it is difficult for us to express how much we thank him. We don't know how and when he first found us, but it seemed that he knew about us from the very beginning, like, from our 1st album. He played our music many times on his radio show, and it helped spreading our music all over the world, which is amazing. Every time when we visited U.K. to tour, he had some special events for us. He gave us a opportunity to play real-time-on-air live show at BBC, and another time, he invited audience to the studio for our peel session. Last time when we saw him was when we played a show for the radio one show case in Brighton in 2003. He was smiling. Thanks, Mr.John Peel, for your love to our music. We miss you.
MELT-BANANA
Festive Fifty Entries
Sessions
Two sessions, both live from Maida Vale. No known commercial release.
1. Recorded: 1999-09-21. First broadcast: 21 September 1999. Repeated: 30 August 2000
Scrubber / Scratch Or Stitch! / F.D.C. For Short / Rragg / Disposable Weathercock / Shoot The Moon / Stimulus For Revolting Virus / His Name Is Mickey / We Love Choco-Pa! / Some Kind of ID / First Defy / So Unfilial Rule / Tapir's Flown Away / Zip Zero / Circle-Jack (Chase The Magic Words, Lego Lego) / Spathic!! / Mind Thief / Dead Spex / Picnic In Panic / Plot In A Pot
2. Recorded: 2001-10-03. First broadcast: 03 October 2001. Repeated:
WEDGE / Seesaw Seminology / RRaGG / FDC For Short / Free The Bee / Flash Cube Or Eyeball / Ethar Twisted / First Contact To Planet Q / Warp, Back Spin / Third Attack / Flip And Hit / Stimulus For Revolting Virus / Tintarella di Luna / Lost In Mirror / Spathic / Plot In A Pot
(Please correct mistakes and add any missing info)
Live
30 October 2003: Live at Concorde 2, Brighton, for One Live.
Sheild For Your Eyes
F D C For Short
Rragg
Free The Bee
Circle Jack
First Contact To Planet Q
Warp Back Spin
Dreamer Who Is Too Weak To Face Up
Chainshot To Have Some Fun
His Name Is Mickey Act Last She Got Him
We Love Choco Pa
So Unfilial Rule
Some Kind Of Id
First Defy
Zoo No Vacancy
Scrubber
Flip And Hit
Iguana In Trouble
Lost Parts Stinging Me So Cold
Get The Head Back
Hunter In The Rain
Like A White Bat In A Box
Other Shows Played
The list below was compiled from the database of this site and Lorcan's Tracklistings Archive via John Peel Wiki Tracklistings Search. Please fill in any missing information.
1995
11 August 1995: 'Scissor Quiz (Compilation CD-Maboroshi No Sekai Samples)' (Maboroshi No Sekai)
1996
1997
1998
1999
2000
2001
2002
2003
2004
See Also
External Links
Community content is available under
CC-BY-SA
unless otherwise noted.