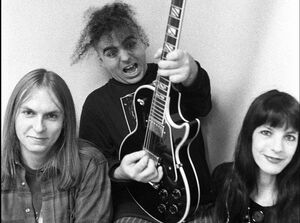 "The following morning (of the Reading Festival), the music was started with the Melvins, who introduced themselves with a particularly long and lugubrious Miles Davis track, and were OK once they got going." [1]
The grunge band Melvins were formed in Aberdeen / Montesano, WA in 1983: the founding members were Roger "Buzz" Osborne, aka King Buzzo (guitar/vocals); Mike Dillard (drums), and ex-Mudhoney bassist Matt Lukin. Buzz, Mike, and Matt all went to high school in Montesano. The name Melvins came from a grocery clerk at a Thriftway in Montesano where King Buzzo served as a clerk. Melvin was the most hated fellow employee and they felt it to be an appropriately ridiculous name.
In the beginning they played Cream and Jimi Hendrix covers, and also began playing fast hardcore punk. When Dillard left the band, Dale Crover took his place, and the band's rehearsals moved to a back room of Crover's parents' house in Aberdeen, Washington. Soon afterward, they started to play songs slower and "heavier" than nearly anyone else at the time. Boris named themselves after a song on the 1991 LP Bullhead.
The band are still extant and releasing new material. In 2016, they toured with Peel favourites Napalm Death and Melt Banana. [2]
Links to Peel
The band recorded one session for Peel, which to date has only appeared on a bootleg compilation. Three of the songs were cover versions: Leech (Green River); Theme (Clown Alley); and Way Of The World (Flipper). JP supported their music with frequent plays, and seems to have been particularly proud of his copy of a rare single release with a nod to Lukin's original band
Osborne appears to have been a fan of Captain Beefheart: in an interview, he mentioned a Peel-narrated documentary about the man on YouTube. [3]
Festive Fifty Entries
Sessions
One session, produced by Dale Griffin. No known commercial release. Featured on Best Of Peel Vol 24. For this session, Osborne and Croven were augmented by Lori Black (bass, vocals).
1. Recorded: 1991-02-17. First broadcast: 10 March 1991. Repeated: 11 May 1991
Leech / Euthanasia / Theme / Way Of The World
Other Shows Played
1989
1990
1991
1992
1993
1997
1999
External Links