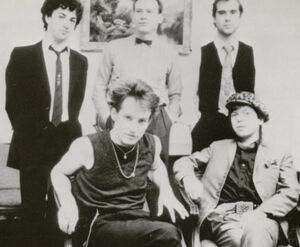 The Members were a British punk band formed by lyricist Nicky Tesco (Nick Lightowlers) in 1976, through an invited audition at a recording studio at Tooley Street, London. The original personnel, with Tesco (vocals), was Gary Baker (guitar), and Steve Morley (bass guitar), initially with Steve Maycock then Clive Parker (drums). Morley and Parker were later replaced by Chris Payne and Adrian Lillywhite.
The band broke up in 1983, when Tesco left the band after the last tour of the US. Lillywhite went on to join the band King in the mid-1980s in time for their second album. Lloyd soon joined the Australian band Icehouse, remaining with them for their international smash hits "Electric Blue" and "Crazy." In 1989, Tesco appeared in Leningrad Cowboys Go America, written and directed by Aki Kaurismäki, a film about a fictional Russian rock band touring the US. This fictional band then toured as an actual band, and recorded the Tesco song "Thru the Wire". Kaurismäki directed a video for "Thru the Wire", featuring Tesco. As well as working as a music journalist for the magazine Music Week, Tesco has been a commentator on new releases for BBC Radio 6 Music's "Roundtable".
Links to Peel
A firm favourite of Peel in the late 70's, the band did three sessions for his programmes. In the 90's, Samurai Seven did a cover of the Members song, The Sound Of The Suburbs, which was featured as the theme tune to the late 90's TV series, Sounds Of The Suburbs, which showcased local bands from various regions of Britain and was presented by Peel himself.
Sessions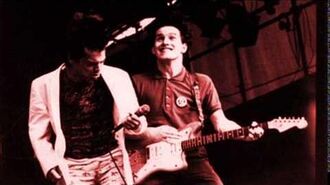 1. Recorded: 1979-01-17. Broadcast: 23 January 1979. Repeated: 12 February 1979
Love In A Lift / Phone-In Show / At The Chelsea Nightclub / Sound Of The Suburbs
2. Recorded: 1979-09-24. Broadcast: 01 October 1979. Repeated: 13 December 1979
Muzak Machine / Physical Love / Brian Was / The Gean Men
3. Recorded: 1981-04-01. Broadcast: 13 April 1981. Repeated: 28 April 1981
Boys Like Us / Chairman Of The Board / Working Girl / Birmingham
Other Shows Played
1978
1979
1980
1982
1983
1984
1986
1988
1993
1996
See Also
External Links
Community content is available under
CC-BY-SA
unless otherwise noted.