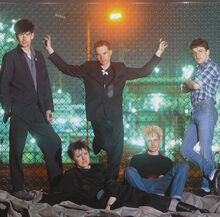 The Men They Couldn't Hang (TMTCH) are a British folk punk group founded in 1984. The original group consisted of Stefan Cush (Vocals, Guitar), Paul Simmonds (Guitar, Bouzouki, Mandolin, Keyboards), Philip "Swill" Odgers (Vocals, Guitar, Tin Whistle, Melodica), Jon Odgers (Drums, Percussion) and Shanne Bradley (Bass Guitar). The band split in 1991 and reformed in 1996 minus drummer Jon Odgers who had become Therapy?'s drum technician.
Links to Peel
According to an interview with One Two Testing magazine, published in 1985, Peel mentioned discovering the band when he saw their tape on John Walters' desk and liked the name. [1] The group did three sessions for his show and their first single, The Green Fields of France, finished at number 3 in the 1984 Festive Fifty. After the 80's, Peel seemed to have lost interest in the band and rarely played their music on his programmes.
Festive Fifty Entries
Sessions
1. Recorded: 1984-07-04. Broadcast: 12 July 1984. Repeated: 30 July 1984, 19 December 1984
Walkin' Talkin' / The Men They Couldn't Hang / The Green Fields Of France / Boy Named Sue
2. Recorded: 1985-01-22. Broadcast: 06 February 1985. Repeated: 26 March 1985, 16 December 1985
The Ironmasters / Night To Remember / Scarlet Ribbons / Donald Where's Your Trousers?
3. Recorded: 1985-07-16. Broadcast: 24 July 1985
Shirt Of Blue / Where Have All The Flowers Gone? / Greenback Dollar / Kingdom Come
Live
Recorded at ICA Rock Week: 1984-10-06. Broadcast: 17 December 1984
Walkin', Talkin'
Ironmasters
The Men They Couldn't Hang
The Day After
Other Shows Played
1985
1986
1987
1996
See Also
External Links
Community content is available under
CC-BY-SA
unless otherwise noted.