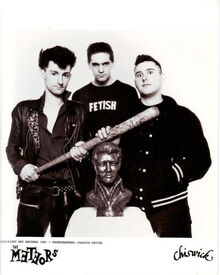 The Meteors are an English psychobilly band formed in 1980. Originally from London, England, they are often credited with giving the psychobilly subgenre—which fuses punk rock with rockabilly—its distinctive sound and style. Though the origins of psychobilly are debated, The Meteors are the first band to self-identify as psychobilly, and are often credited with the distinction of being the only "pure" psychobilly band among fans of the subgenre.  
The Meteors blend elements of punk rock, rockabilly, and horror film themes in their music. The Meteors articulated psychobilly's apolitical stance, a reaction to the right- and left-wing political attitudes which divided other British youth cultures. Fans of the Meteors, known as "the Crazies", are often attributed with inventing the style of slam dancing known as "wrecking", which became synonymous with the psychobilly.
Links to Peel
The band first received attention from Peel in 1981, with the "Meteor Madness" EP on Ace Records/Chiswick, and they recorded a session for his show in that year. Peel supported the group with airplay and several more sessions for his programmes, but by the mid 80's he lost interest in their music and rarely played much of the band's new material.
Although the Meteors top the list of artists with most indie album chart entries in the 1980s, with 12,[1] the band failed to gain the wider recognition of many other Peel session bands of the era, perhaps reflecting the proudly retro style of their music and image.
Sessions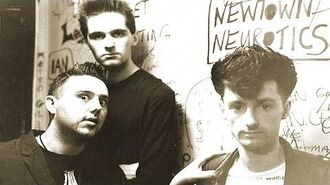 1. Recorded: 1981-06-16. Broadcast: 23 June 1981. Repeated: 14 July 1981, 31 August 1981, 07 October 1981
Voodoo Rhythm / Love You To Death / Rockabilly Psychosis / My Daddy Is A Vampire / Rockhouse
2. Recorded: 1983-11-30. Broadcast: 13 December 1983. Repeated: 05 January 1984
Ain't Gonna Bring Me Down / You Crack Me Up / Lonesome Train / Long Blonde Hair
3. Recorded: 1984-06-27. Broadcast: 09 July 1984. Repeated: 26 July 1984, 18 December 1984
Stampede / Deep Dark Jungle / Surf City / I'm Just A Dog
4. Recorded: 1985-10-20. Broadcast: 30 October 1985. Repeated: 18 November 1985
Torture / Meat Is Meat / Bertha Lou / Maniac
Other Shows Played
1981
1982
1983
1984
1985
1988
1994
27 August 1994: 'The Napoleon Solo (CD - Teenagers From Outer Space)' Big Beat
External Links
Community content is available under
CC-BY-SA
unless otherwise noted.