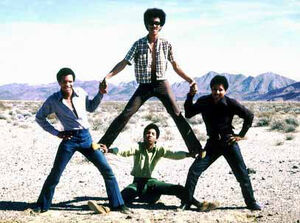 The Meters are an American funk band formed in 1965 by Zigaboo Modeliste (drums), George Porter Jr. (bass), Leo Nocentelli (guitar), and Art Neville (keyboards) in New Orleans. The band performed and recorded their own music from the late 1960s until 1977 and played an influential role as backing musicians for other artists, including Lee Dorsey, Robert Palmer, Dr. John, and Allen Toussaint. Their original songs "Cissy Strut" and "Look-Ka Py Py" are considered funk classics. While they rarely enjoyed significant mainstream success, they are considered originators of funk along with artists like James Brown, and their work is influential on many other bands, both their contemporaries and modern musicians.
Links to Peel
The early 1970s LPs by rhe Meters, on the then fashionable Reprise label, were well received by rock critics who were starting to pay attention to New Orleans R&B styles, and Peel played tracks from them on his shows. In 1986, Charly Records released a reissue album of the Meters' earlier material, originally recorded for the Josie label, which JP played quite often in the spring of that year.
Shows Played
1973
1974
1976
1982
1986
2001
External Links
Community content is available under
CC-BY-SA
unless otherwise noted.