(This page covers both Mick Farren and the Deviants)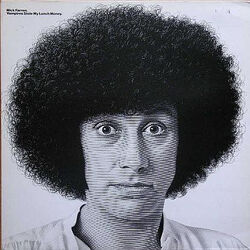 Michael Anthony Farren (3 September 1943 – 27 July 2013) was an English journalist, author and singer associated with counterculture and the UK underground. Farren was the singer with the proto-punk band The Deviants between 1967 and 1969, releasing three albums. During 1970 he released the solo album Mona – The Carnivorous Circus which also featured Steve Peregrin Took, John Gustafson and Paul Buckmaster, before a taking a break from music to concentrate on writing.
During the early 1970s he contributed to the UK underground press such as the International Times, also establishing Nasty Tales which he successfully defended from an obscenity charge. He later wrote for the mainstream New Musical Express, for which he wrote the article The Titanic Sails At Dawn,[1] an analysis of what he considered the malaise afflicting then-contemporary rock music and which described the conditions that subsequently resulted in punk.
Farren died at the age of 69 in 2013, after collapsing while performing with the Deviants at the Borderline Club in London. (Read more at Wikipedia)
Links to Peel
In his autobiography Give The Anarchist A Cigarette (London, 2002), Mick Farren writes: (p. 90)
The disc jockey John Peel proved an important early input. His overnight slot on the pirate station Radio London, entitled the Perfumed Garden, came as close to magic as a radio show can, and mercifully required no brain surgery. You simply lay in bed and listened, while Peel decorated the darkness with both the new-and-emergent and the tried-and-trusted....
He also notes that:
Peel was also prone to complain between records of the deadly boredom of life on a pirate radio ship in the middle of the cold North Sea. He seemed to like receiving letters, so I started writing to him, commencing a correspondence which would reveal, among other things, that we both had a love for heavy-duty Fifties rock, especially Gene Vincent and Jerry Lee Lewis; a retro taste frowned upon by the trendsetters of the day as being too fundamental, but what the hell? It was our secret.
Peel mentions Mick Farren frequently in his early journalism and on his radio programmes of 1967-68, especially the Perfumed Garden. Of the editorial group which founded International Times, Farren was the only member with a close connection to, and knowledge of, pop music. He formed a band, the Social Deviants (later the Deviants) who failed to impress audiences at the time but have been seen as pioneers of punk music. At the same time he contributed reviews to International Times before Peel began to write for the paper, and was also doorman at the UFO Club, where Peel may well have met him during his periods of shore leave from Radio London. He was certainly one of the first music business contacts Peel made on the London scene of 1967.
Peel and Farren seemed to become friends for a while, sharing sympathies for the underground culture as well as a love of classic rock and roll. The DJ interviewed him for Dutch TV in autumn 1967, and again when Farren was a studio guest on the Night Ride show of 03 April 1968. No recording of the show has been found, but according to Robert Chapman (Selling the Sixties, pp.268-9):
Mick Farren, the International Times journalist and member of the Social Deviants politico-rock group, ponderously informed listeners on an early programme that "pop music as such is ceasing to exist", that rock was making politics obsolete, and that Pete Townshend propelling his arms while playing his guitar had a definitive dialectical meaning which "the kids" instinctively understood.
The Deviants' first LP Ptooff! was released in 1968 and Peel wrote the sleevenotes. He praised it in his IT column, in somewhat lukewarm fashion ("I've listened several times to the Deviants LP and it really is quite good....."[2])  According to Farren's autobiography (p.188). Peel "loathed" Disposable, the band's second LP - but he still played the single taken from the album at least twice, in November 1968 (see below). 
Mick Farren continued to perform with the band until it broke up during a US tour, but was far more successful as a journalist and underground spokesman. In his book Give The Anarchist A Cigarette he describes (pp.218-20) a brief affair with Germaine Greer, and says this was "all John Peel's fault". Apparently the three of them went to Birmingham at Peel's invitation to see the Who at Mothers club, and instead of returning to London with Peel after the gig, Farren decided to remain with Greer. The DJ was intending to drop her off at her flat near Warwick University, where she worked as a lecturer in English literature, and according to Farren's account, Peel "looked a bit miffed that he'd have to make the drive back on his own".
By the end of the 1960s different factions had emerged in the underground scene and Mick Farren became a prominent figure, as "Minister of Information" of the British branch of the White Panther Party which, like the US party, advocated street-level revolutionary anarchism. Peel wasn't unduly impressed, telling Jonathan Green (Days In The Life, p 328):
There were only two White Panthers and Mick Farren was the leader. I went round to his flat one day and Mick was always telling me about all this 'property is theft' stuff. He had some Gene Vincent LPs that I was rather keen to own, so I said, 'I don't feel as strongly about it as you do, but I'll take these Gene Vincent LPs,' but it turned out that property was theft except for Gene Vincent LPs.
The DJ also voiced criticism of one of the disruptive activities organised by Farren, when the premises of Release, the charity which provided support and legal aid to young people who had been arrested on drug charges, were smashed up, with the slogan "Give Release back to the people"[1]:
It's a bit like the whole Release business where people I used to know, like Mick Farren, don't seem to be acting in the way that their ethic could lead them, for example by blowing up police stations, because they're frightened to do that or anything else which might land them inside. There may obviously be many things wrong with the way Release is run, but it seems a bit pathetic that the new pop revolutionaries can only find a place like that to pick on. They go and attack it because they know no-one will punch them on the nose.[2]
Despite Peel's differences with Mick Farren, he continued to play tracks by the singer and his various bands, long after the underground era had ended. Peel was an avid reader of the music press and would have been aware of Farren's articles for the NME and of the singer's comeback in the late 1970s, when some new wave artists acclaimed him as a punk pioneer and kindred spirit. Indeed, in 1978 Peel played tracks from the LP Vampires Stole My Lunch Money, which featured a number of well-known guests (see below). Despite this, the DJ does not seem to have had any contact with Farren in later years; the singer emigrated to the US in 1979, began to concentrate more on his writing, and only returned to Britain in 2010..
In 1970 there was a Top Gear session by the Pink Fairies, the band which succeeded the Deviants after Farren left.
Festive Fifty Entries
Sessions
Shows Played / Mentioned
Mick Farren
Deviants
See Also
References
↑ See the account of the episode in chapter 16 of Richard Neville's Hippie Hippie Shake (London 2010).
↑

In Friends 26, March 22 1971, p. 20 .
External Links
Community content is available under
CC-BY-SA
unless otherwise noted.