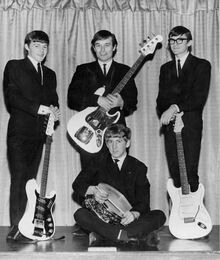 The Mighty Avengers were an English pop group, who were formed in 1962 in Coventry, England. The band consisted of Tony Campbell on lead guitar and vocals, Mike Linnell on bass and lead vocals, Tony Machon on rhythm guitar and harmonica, and Biffo Beech at the drum kit. They released four singles in two years and made a specialty of covering songs by Mick Jagger and Keith Richards, of which only "(Walkin' Thru The) Sleepy City" and "So Much in Love" ever made much of an impression. One is intrigued by the B-side of their final single, "Sir Edward and Lady Jane," which manages to squeeze references to the founder and head of Decca and a notable Jagger/Richards song into its name. In 1966, lead guitarist Tony Campbell hooked up with ex-Pinkerton's Assorted Colours bassist Barrie Bernard and keyboardist Clive Scott and drummer Des Dyer, who'd written songs for Engelbert Humperdinck, to form Jigsaw, which had several chart hits in the mid-1970s.
Links to Peel
The Mighty Avengers weren't among the most popular British groups of their era, although their singles were played on Radio Luxembourg and the offshore pirate stations. 'So Much In Love' made the Radio Caroline charts[1] and spent two weeks in the UK Singles Chart, reaching number 46 at the end of 1964, but fared better in Australia, reaching #22, Peel was aware of them when he was living in America and mentioned them in a KOMA trailer:
"For the very latest information about the Beatles, Yardbirds, Rolling Stones and all of the other English groups, in addition to exclusive recordings by these groups and lesser-known but magnificent performers such as the Hollies, the Mighty Avengers, Spencer Davis Group, Snotty & The Nosepickers, and the Boys Blue, listen for me, John Ravencroft, when I have the honour of joining Bobby Davis and Kay nightly on KOMA, the only station with its finger firmly on the pulse of the English scene.
Back in the UK, Peel played a couple of their tracks over the years; their version of the Jagger/Richards song "When Blue Turns To Grey" (their only US single release), and 'So Much In Love', which he selected for his
Peelenium 1964
. After his death, a copy of that single was found in
John Peel's Record Box
, a collection of 142 treasured singles in a wooden box that he would save if there was a fire at his home.
Shows Played
1986
1988
1992
2000
2002
External Links
Community content is available under
CC-BY-SA
unless otherwise noted.