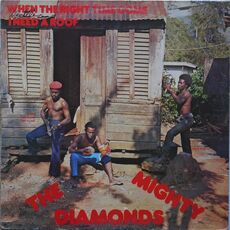 The Mighty Diamonds (aka Diamonds) are a Jamaican harmony trio, recording roots reggae with a strong Rastafarian influence. Formed in 1969 in the Trenchtown area of Kingston, the group comprised lead vocalist Donald "Tabby" Shaw, and harmony vocalists Fitzroy "Bunny" Simpson and Lloyd "Judge" Ferguson, and remained together as of 2012. They are best known for their 1976 debut album "Right Time" produced by Joseph Hoo Kim and the 1979 release "Deeper Roots".
It was their mid-1970s work with producer Joseph Hoo Kim that gave them their real breakthrough. "Country Living" and "Hey Girl" were recorded and released by the Channel One label. "Right Time" followed, on Hoo Kim's Well Charge label, cementing their status as one of the top Jamaican groups of the time. Virgin Records signed them and the group's début album, Right Time, was released in 1976, including most of their early Channel One hits. The album was an international success.
The group continued to release albums regularly, adapting successfully to the prevailing digital rhythms of the 1980s and beyond.
(Read more at Wikipedia.)
Links to Peel
Peel gave regular airtime to the Mighty Diamonds down the decades, after including three tracks from their first UK LP on Virgin on 19 May 1976, the historic show when he also first played music from the Ramones debut album.
In 1982, the Jamaican vocal trio's "Pass the Kouchie" was adapted by Peel UK session artists Musical Youth and released as "Pass The Dutchie" for a UK number one hit.[1]
The following decade, the Mighty Diamonds were credited alongside UK artists Pop Will Eat Itself, Gary Clail, Ranking Roger and On U Sound System when a sample of their song "I Need A Roof" was used on a charity cover version of "Gimme Shelter", played by Peel in April 1993.
On 16 December 2004, Alex Paterson of the Orb included vintage Mighty Diamonds track "Right Time" in his live DJ set from Maida Vale for Radio One's Keeping It Peel tribute night.
Festive Fifty Entries
Sessions
Other Shows Played
1970s
1980s
1990s
2000s
Other
See Also
External Links
Community content is available under
CC-BY-SA
unless otherwise noted.