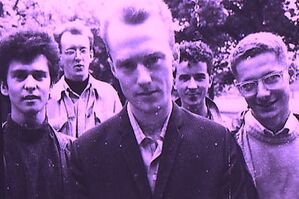 Mighty Mighty are an indie band formed in Birmingham, England in 1983 by Russell Burton (vocals & bass), Mick Geoghegan (guitar), Pete Geoghegan (Vox organ and guitar), D J Hennessy (drums) and Hugh McGuinness (vocals and harmonica).
Showing influences from Postcard Records bands such as Orange Juice, they came to prominence when featured on the NME's C86 compilation, at around the same time that they released their debut single "Everybody Knows the Monkey". This was soon followed by a 12" single, "Is There Anyone Out There?", before the band signed to Chapter 22 Records, releasing a string of well-received singles and the album Sharks in 1988. With their brand of indie pop giving way to American influenced rock and shoegazing, they split in 1988.
Continuing interest in the band saw the reissue of Sharks in 2000, the release of a compilation album of BBC session tracks in 2001, and two compilations of singles and unreleased tracks in 2000 and 2001. They reformed for the Indietracks music festival in 2009 and released their third album Misheard Love Songs recorded at Muthers in Digbeth, Birmingham in 2019.
Links to Peel
In an interview with the Cloudberry Records website on 17th February 2009, Pete Geoghegan praised Peel for helping the band:
"He played Monkey. That was the highlight as far as I was concerned. I remember Russell and I jumping up and down. Recording the sessions was fantastic. He insisted on introducing us on stage once. We still miss him. He can't be replaced." [1]
In total the band recorded three sessions for John Peel and one for Janice Long.
Festive Fifty Entries
Sessions
1. Recorded: 1986-03-25. Broadcast: 02 April 1986. Repeated: 15 April 1986
Throwaway / Is There Anyone Out There? / Ceiling To The Floor / Settle Down
2. Recorded: 1986-08-24. Broadcast: 03 September 1986. Repeated: 24 September 1986
I Don't Need You Anymore / Little Wonder / One Way / Gemini Smile
3. Recorded: 1987-01-04. Broadcast: 19 January 1987. Repeated: 03 February 1987, 03 March 1987
I'll Get You Back / I Never Imagined / Yours Truly / Built Like A Car
Other Shows Played
1988
External Links
Community content is available under
CC-BY-SA
unless otherwise noted.