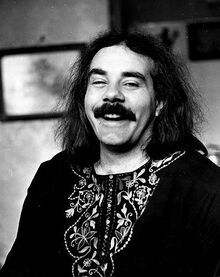 Mike Absalom (born 9 November 1940) is an English pop, folk and celtic music singer, guitarist, songwriter, harpist, poet, artist and children's entertainer. The Province once described Absalom's musical work as "innocence with a macabre twist". His recording and performing work in the 1970s concentrated on subject matter including sex, drugs and the church.
Michael Absalom was born in Torquay, Devon of Irish and Welsh parentage. After being raised in England and Canada, Absalom was educated at Oxford University and the University of Gothenburg, Sweden. He worked as a busker for several years, before Patrick Campbell-Lyons (of Nirvana) signed him to Vertigo Records. By this time he had already had two albums released, the bawdy Mighty Absalom Sings Bathroom Ballads (1965) and Save the Last Gherkin for Me (1969), which featured guitar work by Diz Disley. (read more on wikipedia)
Links to Peel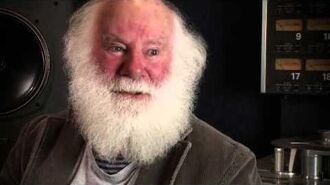 After Peel's death, three albums by Mike Absalom were discovered in his Record Collection: A, with 'Save The Last Gherkin For Me' the LP numbered 1 in the DJ's card index. It is possible that Peel played tracks from them on his shows during the late 60's and early 70's, but it is equally possible that the albums were among those in the collection which the DJ never played on his shows - perhaps because Mike Absalom's penchant for risqué comedy songs about sex and drugs made them unsuitable for radio airplay.
As a folk club singer and entertainer whose debut LP, in the rugby songs genre, was issued in 1965, Absalom wasn't typical of the kind of folk artist Peel featured, but by 1969 he was advertising his gigs in International Times, He recorded a second album (the previously mentioned "Save The Last Gherkin For Me") in 1969 for the Bristol-based label Saydisc, at a time when Peel took an interest in the label due to the British country blues revivalists who recorded for it. Mike Absalom adapted his comedy style to hippy and student audiences on his next two albums, for the "progressive" Vertigo label and its parent label Philips, both of which feature in the Peel collection. Despite a lack of radio sessions, whether for Peel, other Sounds of the Seventies programmes or BBC folk shows, Mike Absalom made an appearance on the Old Grey Whistle Test in 1973[1] and, as he mentions in the "A is for Absalom" video, did a "terrible" gig with Peel at Lewes Technical College in 1973 or 1974 which led to changes in his lifestyle and career.
Shows Played
None according to available playlists
External Links
Community content is available under
CC-BY-SA
unless otherwise noted.