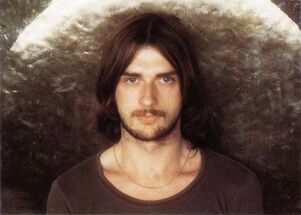 Michael Gordon "Mike" Oldfield (born 15 May 1953) is an English multi-instrumentalist musician and composer, working a style that blends progressive rock with such genres as folk, ethnic or world music, classical music, electronic music, New Age, and more recently, dance. His music is often elaborate and complex in nature. He is best known for his 1973 hit album Tubular Bells, which launched Virgin Records, and for his 1983 hit single "Moonlight Shadow". He is also well known for his hit rendition of the Christmas piece "In Dulci Jubilo"....(Read more at Wikipedia)
Links to Peel
Mike Oldfield made his recording début in late 1968/early 1969 as half of a folk duo with sister Sally, Sallyangie, whose LP Children Of The Sun (coincidentally, the title of a song by Peel favourites The Misunderstood) was issued by Transatlantic Records, the label of Pentangle and other notable folk-based acts of the era. The album was not a commercial success and the duo soon split up, but did do one session for Night Ride in December 1968. After the split, Mike Oldfield became bass guitarist with Kevin Ayers' band The Whole World, who became Peel favourites during 1970-71, recording two Top Gear sessions and two live concerts; Oldfield is known to have played on the second Top Gear session. In future years, Oldfield would again work with Whole World keyboard player David Bedford (who recorded for Peel's Dandelion label both under his own name and as half of the Coxhill-Bedford Duo).
But his best-known association with Peel is the frequently-repeated tale that Peel was so taken with Oldfield's first solo album for Virgin Records, Tubular Bells, that he abandoned his planned playlist and played the complete LP. Aural evidence and the playlist of 29 May 1973 show that this is untrue, as pointed out by Ken Garner in his book The Peel Sessions (BBC, 2007, pg 80). Although Peel's comments on the album are highly favourable, he only plays side one (between tracks by Annette Funicello and Linda Jones) and says he will play side two of the LP on a future programme (available tracklistings suggest he didn't).
He also wrote a very enthusiastic review of Oldfield's record for The Listener (7 June 1973, reprinted in The Olivetti Chronicles, pp.311-313) In it he expresses his scepticism about bands such as Yes and Genesis and states he usually prefers "ephemeral" pop music to the kinds which critics claim will have "lasting value" - but picks out Tubular Bells as an exception, calling it "a new recording of such strength and beauty that to me it represents the first break-through into history that any musician has made....". He also looks forward to the live performance of the piece at the Queen Elizabeth Hall on 25 June, says that Radio 1 probably won't be interested but hopes that Radio 3 might record the concert instead (which didn't happen).
Peel also played Oldfield's follow-up works Hergest Ridge (27 August 1974) and the folk-influenced Ommadawn (29 October 1975), which featured Bridget St John among the personnel. It is not known whether he played these extended works in full, but he did choose the single "In Dulci Jubilo" as one of his fifteen favourite singles of 1975 (19 December 1975).
Improbably, Peel (on "percussion") and Oldfield appear together on Robert Wyatt's live 1974 BBC concert recording, not issued officially until 2005 [1] This can be explained by the fact that Oldfield was also a session player on many recordings by other Virgin Records artists (on the 2008 CD reissue, Robert Wyatt & Friends, Peel is credited with "vocals").
In 1989, apparently at the request of Oldfield himself, Peel appeared in the MC role originally taken by Viv Stanshall on a session version of 'Tubular Bells' recorded by Oldfield for the Nicky Campbell show.[1]
In 1996, Virgin label boss Richard Branson appeared when Peel was the subject of This Is Your Life to credit the DJ's playing of 'Tubular Bells' with laying the basis for the subsequent success of the Virgin business empire.
In 2012, when first details of Peel's record collection were released online - including numerous albums by Oldfield (see Record Collection: O) - both Branson and Oldfield were interviewed by TheSpace website for the short video 'O Is For Oldfield'.
Festive Fifty Entries
Sessions
None as a solo artist, although Oldfield did play Peel sessions with The Sallyangie and Kevin Ayers, as well as a 1989 Nicky Campbell session on which Peel appeared in the vocal role for 'Tubular Bells' (see above).
Shows Played
(The list below was compiled only from the database of this site and Ken Garner's book 'The Peel Sessions' (pg 214, 215). Please add more information if known.)
1970s
Post-1970s
12 September 1989: (JP: "Well, I hope you heard me in session on Nicky Campbell's programme last night, backed by Mike Oldfield. Mega, as you youngsters say.")
06 September 1998 (BFBS): (JP: "Mike Oldfield has apparently done a kind of techno version of 'Tubular Bells' which I've yet to hear, but it's not something I look forward to, I must admit, but there you go. Be interesting to listen to it, won't it? Of course it will!") [Peel is probably referring to this, released on 1998-08-31.]
Post-Peel
16 December 2004 (Keeping It Peel): Tubular Bells (played as backing to interview excerpt)
Top Of The Pops
See Also
External Links
References
↑

There were "unofficial" LP releases of the concert, under the title Las Vegas Fandango, in 1981 and 1994.