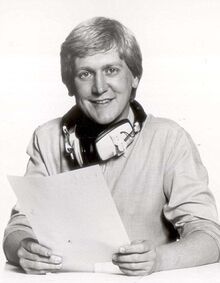 Mike Smith (23 April 1955 – 1 August 2014) was a British television and radio presenter, racing driver, helicopter pilot and later successful businessman. He first joined BBC Radio One in 1975 on a freelance basis, moving on to Capital Radio in 1978. He returned to the BBC as a regular DJ in 1982, presenting the weekday early show ("shower, shave and sausage show") from 6 to 7 am on weekdays. A year later he took over the weekday lunchtime show from 11.30 am–2 pm before moving on to television where he presented Breakfast TV for two years, returning to Radio One in 1986 for the 7 - 9.30 breakfast slot, taking over from Mike Read.
He was one of the station's more affable daytime presenters and was once reported as being Princess Diana's favourite DJ. He was also a qualified helicopter pilot and in 1988 suffered a bad crash with his to-be wife Sarah Greene (also a TV presenter), which they both survived. [1]
Smith died in August 2014 from complications following major heart surgery.
Links to Peel
Peel and 'Smithy' were colleagues at Radio One from 1982 to 1988 and their paths occasionally crossed both on radio and TV. They made a one-off appearance as joint Top of the Pops presenters on 04 August 1983 (presumably as David Jensen was on holiday) and both appeared on the same edition of Round Table with Richard Skinner on 09 March 1984. Both DJs also worked on The Noel Edmonds Late, Late Breakfast Show.
Links
Community content is available under
CC-BY-SA
unless otherwise noted.