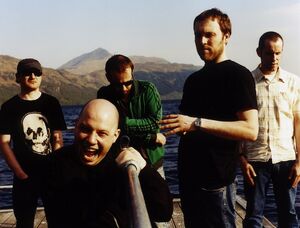 Mogwai are a Scottish post-rock band, formed in 1995 in Glasgow. The band consists of Stuart Braithwaite (guitar, vocals), John Cummings (guitar, vocals), Barry Burns (guitar, piano, synthesizer, vocals), Dominic Aitchison (bass guitar), and Martin Bulloch (drums). The band typically compose lengthy guitar-based instrumental pieces that feature dynamic contrast, melodic bass guitar lines, and heavy use of distortion and effects. The band were for several years signed to renowned Glasgow indie label Chemikal Underground, and have been distributed by different labels such as Matador in the US and Play It Again Sam in the UK, but now use their own label Rock Action Records in the UK, and Sub Pop in North America. Rock Action records is named after Stooges drummer Scott Asheton, who had his name changed to Rock Action. The band are named after the creatures from the film Gremlins, although guitarist Stuart Braithwaite comments that "it has no significant meaning and we always intended on getting a better one, but like a lot of other things we never got round to it." Mogwai means "evil spirit" or "devil" in Cantonese (Chinese: 魔鬼; Mandarin Pinyin: móguǐ; Jyutping: mogwai).
Links To Peel
The band were frequently championed by John Peel from their early days, and recorded no fewer than five Peel Sessions between 1996 and 2004. Peel also recorded a brief introduction for their compilation album Government Commissions: BBC Sessions 1996–2003.  After Peel's death in 2004, Stuart Braithwaite paid his tribute to Peel, when interviewed on The Guardian in 2005: [1]
"...His influence on the band goes deep. We discovered all the music we love, from Sonic Youth to a crazy old blues man, from his show. He was a legend and a wonderful guy; the only person I can think of who worked for a major corporation for decades and remained unchanged by it. His integrity was such that you knew he would be playing the same music if he were working for the BBC or Norwich Hospital Radio."
Festive Fifty Entries
Post-Peel
Sessions
Five sessions. Selection of tracks available on Government Commissions: BBC Sessions 1996-2003 (CD and 2xLP, PIAS, 2005).
1. Recorded: 1996-12-22. First broadcast: 11 January 1997.
Super Heroes Of Bmx / Summer (Priority Version) / Waltz For Jo / Mogwai Salute The Brilliance Of Steve Lamacq
2. Recorded: 1998-01-20. First broadcast: 17 February 1998.
Procedure 4 / Ex Cowboy / Don't Cry / New Paths To Helicon (Part II)
3. Recorded: 1998-08-23. First broadcast: 01 September 1998. Repeated: 21 January 1999
Rollerball / Kappa / Spoon Test / Country
4. Live at Maida Vale 17 October 2001.
Yes I Am A Long Way From Home / Nick Drake / You Don't Know Jesus / Radar Maker / My Father My King
5. Live at Maida Vale 21 May 2003 (The appearance of Mogwai is delayed by extra time in the UEFA Cup final, with Celtic playing Porto. As recalled in John Peel's Scottish Sessions, JP is full of praise for the band's eventual set: "Mogwai's always been a good band; I think you'd now have to say they're a great band. A bad night for football, but a great night for music.")
Hunted By A Freak / Kids Will Be Skeletons / Killing All The Flies / Stop Coming To My House / Golden Porche / Ratts Of The Capital / I Know You Are / Helicon 1
Live
(no track listing available)
Helps Both Ways
Year 2000 Non-compliant Cardia
Mogwai Fear Satan
Bmx
Jesus
Flies
I Know
Helicon
2 Rights Make 1 Wrong
Sinewave
Ratts
Other Shows Played
(This list was compiled only from the database of this site and Lorcan's Tracklistings Archive. Please add more information if known.)
1996
1997
1998
1999
2000
2001
2003
2004
Other
John Peel's Scottish Sessions: Superheroes Of BMX (session #1, first TX 11 January 1997) (Mogwai's Stuart Braitwaite explains doing a session at the Hippodrome.)
John Peel's Scottish Sessions: Helicon 1 (session #5, live on 21 May 2003) (Stuart Braithwaite from Mogwai – story about live session at Maida Vale on night of Celtic losing UEFA Cup final and Peel.)
External Links